The Birler axe: A tool with a postive edge
A new program, designed by Columbia River Knife & Tool, provides an opportunity for veterans to design tools for profit and charity.
---
Elmer Roush, Vietnam veteran turned blacksmith, is one of the several participants in the Forged by War program created by Columbia River Knife & Tool (CRKT).  Forged by War is a collection of veteran-designed tools. 10 percent of the net profit from tool sales are donated to the designing veteran's charity of choice. 
Roush served in the United States Air Force and deployed to the Republic of Vietnam.  After he finished his tour in Vietnam, Roush realized transitioning back into society wasn't easy. Due to the war's unpopularity and Roush's undiagnosed PTSD, finding work as a civilian proved difficult. As a result, Roush fell into blacksmithing. 
A recent YouTube video, uploaded by Columbia River Knife & Tool (CRKT), details the positive impact blacksmithing had on Roush. In the video, Roush is outfitted with a leather apron, beard, and pulled back hair.  He resembles the Greek god Hephaestus—sparks fall from his anvil after each blow, as he crafts his beautiful Birler axe.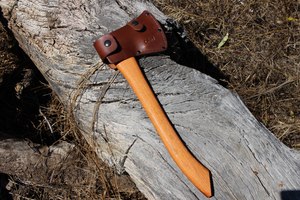 The design of the Birler axe
Roush's Birler axe clearly pays homage to the Vikings. It is compact and easily tucked into a belt. You could compare a Viking's use of an axe to today's use of a pistol.  
The Birler axe references bushcraft roots in its name -- "Birler" refers to spinning a floating log in lumberjacking, but also alludes to wooden burl used in the handles of Scandinavian bushcraft tools. 
Roush also added a beautiful bearded axe head which is a Viking's trademark design. 
What is a beard on an axe?
Imagine the face of a normal axe, similar in shape to a triangle.  A bearded axe has a heel lower than normal, like a beard dropping from a chin.  A beard increases the cutting surface, and also allows the user to hook shields or swords and pull them away from would be victims.  
Though it isn't important to pull a shield away from someone today, the fact that Roush was inspired by this design is important.  It increases the utility of the axe.  
Axes in the great outdoors
Axes are a wonderful tool to have with you in the woods because it serves many basic bushcraft functions: felling small trees, limbing, reducing woods, notching, and more.  While there are techniques that allow a knife to be used for these purposes, the design of the hatchet is more specific because it's designed as a lopper, which separates materials from each other with each blow.
Birler by the numbers
The 5-inch, bearded head of the Birler axe is made of 1055 carbon steel which makes it incredibly tough and rust-resistant.  The grind of the bit is slightly convex, which gives it general purpose.  The handle is roughly 16-inches long and curved for getting a good swing.  The axe's pointed butt lends itself to easily being tucked in a belt. Hickory grain runs lengthwise up the handle to the blade for strength and durability.  
CRKT was kind enough to send a leather sheath with two snaps, one over the front and one over the poll of the axe to secure it in place.  I cannot emphasize the importance of moving through terrain with a sheathed blade —this prevents needless injury should you slip and fall. The sheath itself is a fine grade leather and comes with a belt loop.  
Overall performance review
The Birler axe, by design, straddles two worlds—the tactical and practical.  The main purpose of this tool review was to assess its capabilities as a pack axe, I had no intention of hacking through a door jamb or throwing it 25 feet into a silhouette target. However, the bearded design provides more tactical purpose than I imagined.
As far as performance, the axe did well.  I took it into the woods and performed a variety of basic bushcraft skills:
Limbed trees 
Reduced various woods for fire 
Notched pieces of wood   
The axe's edge, out of the box, was utilitarian. This axe weighs roughly one pound.  It isn't designed to chop down a sequoia. Keeping that in mind, I measure it favorably when comparing weight versus utility.  The only shortcoming as I saw was the finish on the handle, which was rougher than I was used to.  
Final notes on the axe
While the handle could use some further refinement, the tool performed admirably in all the tests I used it for. Its functions allowed me to save the edge on my knife for more delicate concerns. I would feel quite comfortable defending myself with the Birler, too. Its current online price is $54.99, which is a great deal for the overall utility.  
Beyond this, the Forged by War program supports veterans and gives 10 percent back to various charities which adds value to the purchase. 

Request product info from top Tactical Products companies
Thank You!