Safariland Adds NIJ-06 Female Model to Its ABA Xtreme Line of Products
---
New model offers affordable ballistic performance and reliable protection in female design.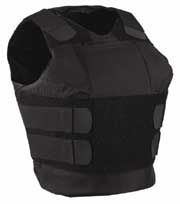 The XT01F Type II is part of the ABA® Xtreme® Series of concealable armor. It is the first NIJ-06 compliant, female armor model to be added to this brand. Tested against the 9 mm & .357 Mag. NIJ-designated rounds, the XT01F Type II is a hybrid, female semi-structured design that incorporates covered dart technology and high performance Gold Shield®. The XT01F Type II provides a competitively priced female armor model that offers comfort and reliable performance against a wide array of threats.
 "The XT01F gives us yet another exceptional female design that adds to our existing family of armor solutions," says Tim O'Brien, Concealable Armor Product Manager. "The package provides enhanced coverage while also offering the performance and comfort many female officers desire."
The NIJ introduced the Ballistic Resistance of Body Armor NIJ Standard-0101.06 to establish minimum performance requirements and test methods for the ballistic resistance of personal body armor. The standard provides improved performance of body armor so that officers receive adequate protection against those threats likely faced over the next decade. According to the new NIJ-06 standard, body armor must now be able to defend against increased velocities of ammunition calibers to better reflect current street threats and law enforcement duty weapons. These new performance requirements are critical components to improving the life-protecting equipment being used by law enforcement today.
All Safariland concealable armor models are certified using NIJ approved size templates C1 and C5, which offer law enforcement the widest range of production sizes available. In addition to these models, Safariland offers an array of concealable and tactical products, which are available and posted to the NIJ Compliant Products List (CPL) at http://www.justnet.org/pages/BallisticCPL.aspx
Safariland's body armor models combine the heritage and expertise of ABA®, Second Chance®, SAVVY® and PROTECH® Tactical. In doing so, Safariland offers the most comprehensive line of body armor available in the industry. Safariland's NIJ-06 body armor provides law enforcement officers with enhanced performance, durability, comfort and value, which deliver on the company's motto: Together, We Save Lives™.
About Safariland
Safariland, LLC is a premier provider of law enforcement and security products and services, delivering a full-range of customer-specific solutions.  Offering many of the world's most recognizable branded products in the public safety market, Safariland is committed to saving lives.  For more information about Safariland and its body armor products, as well as information on the new NIJ-06 standard, please visit www.safariland.com.   
About BAE Systems
BAE Systems is a global defense, security and aerospace company with approximately 107,000 employees worldwide. The Company delivers a full range of products and services for air, land and naval forces, as well as advanced electronics, security, information technology solutions and customer support services.  In 2009 BAE Systems reported sales of £22.4 billion (US$ 36.2 billion).