PRESS RELEASE
Now shipping: Thermion Thermal Riflescopes
---
MANSFIELD, TEXAS — Pulsar brought true superiority to SHOT Show 2019, with the unveiling of the new Thermion Thermal Riflescope. Pulsar will begin distributing limited quantities of Thermions starting with XM models this month. Pulsar has set a new milestone with the Thermion with its traditional riflescope design.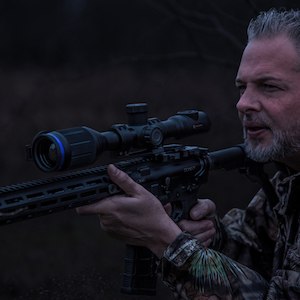 The cutting-edge thermal optic provides hunters clarity when hunting, day or night. Create memories by enhancing your hog, predator and varmint hunts with the Thermion Thermal riflescope.
The Thermion will be available in five different models: XM30, XM38, XM50, XP38 and XP50. The XM models boast a 320x240 microbolometer resolution with 12μm pixel pitch and a full-color 1024x768 HD AMOLED display, delivering a crisp image with a detection range of up to 2,500 yards. The XP models are feature-rich with a 640x480 microbolometer resolution, 17μm pixel pitch, a 1024x768 HD AMOLED full-color display and detection range of 2,000 yards.
Additional Thermion features include variable zoom, picture-in-picture mode, 10 reticles in 4 colors and 8 display color pallets. An integrated 16GB of internal memory allows you to take still images and record video.
If you are a dealer and want to speak to someone about pre-orders or becoming a new Pulsar authorized dealer, please contact sales@pulsarnv.com. If you are a media member and would like to test and evaluate the Thermion please contact mediarelations@pulsarnv.com.
Visit Facebook, Twitter, Instagram and YouTube to learn more about Pulsar® products.
About Pulsar
Every Pulsar device is designed, manufactured and tested to ensure demanding professionals receive the most reliable, most advanced thermal and digital night vision performance the industry has to offer. The result of Pulsar's commitment to industry-leading excellence is consistent world-class quality, precision engineering, seamless device operation and cutting-edge proprietary software. Pulsar produces an array of advanced optical devices designed for law enforcement, security, home defense and hunting applications, including thermal imaging and digital night vision monoculars and riflescopes, night vision binoculars and goggles, rangefinders, IR flashlights and related accessories. To learn more about Pulsar, visit www.pulsarnv.com. For media requests related to Pulsar, please email mediarelations@pulsarnv.com or call 817-225-0310.

Request more info from Pulsar
Thank You!