One more TRIK up our sleeves: Medical tactics
Treat patients until medical care arrives using the Trauma Rapid Intervention Kit
---
Years ago in the police academy, it was forbidden to even utter that officers be trained as Emergency Medical Technicians (EMTs). Comments would range from "That is not our job" to  "We don't get paid for that." Other reasons included "That is why we have the fire department" and "We can't carry all that equipment."
And some of them are valid — to an extent. Unfortunately, some very deadly, high profile incidents have taught us otherwise.
The best example is the North Hollywood Shootout in 1997 that lasted for approximately 44 minutes; seasoned bank robbers Larry Phillips and Emil Matasareanu, covered in extensive body armor, sprayed anything that moved with their automatic weapon fire. Numerous officers lay gravely wounded and still in the line of fire as ambulances circled the scene, unable to get anywhere near the injured officers or injured citizens. Many police departments began allowing patrol rifles as a result of this incident but the adoption of tactical medical care was also given a second look.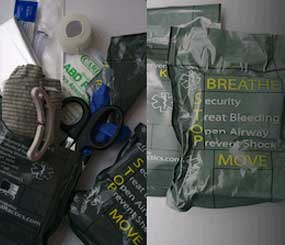 Officers are keenly aware that ambulances will not go into a scene that is not secure and quite honestly, they shouldn't; they aren't trained or equipped to do so.
Think of the numerous active shooter situations including Columbine, Virginia Tech, Fort Hood and Mumbai that went on for several minutes; you may find yourself in the middle of a firefight, possibly injured, with skilled folks that want to provide you medical help but just can't get to you. That's why we have to learn to access and treat ourselves and our partners.
Lessons have been learned from these incidents and from our military brothers and sisters, leading many police officers, particularly SWAT teams, to train in the area of medical tactics. Frankly, every cop should take it upon themselves to learn about self-aid and buddy aid. 
Due to advances in the tactical medical field, it's no longer necessary to carry large amounts of gear or have extensive medical training in order to be prepared. The goal is to treat injuries effectively until professional medical care is available. It is a long drive to the hospital when blood is pouring out of you or your partner.
Dr. Andrew Dennis is an emergency room trauma surgeon at Stroger Hospital of Cook County, Ill., on Chicago's west side; he is also trained as a member of the DuPage County SWAT team. Not every team has the luxury of a trained surgeon among the ranks.  Because he has an affinity for cops, Dr. Dennis spends his spare time training officers on medical tactics. 
This course teaches basic emergency medical care but also stresses combat mindset and encourages officers "to prevail not just survive."  You can survive but be permanently altered (i.e., paralyzed, disfigured, etc.), but "prevailing" means you end up better than when you started.
The key to prevailing is knowing what the body can endure and then doing everything in your power to WIN, including self medical treatment. As Dr. Dennis teaches, the body can endure a significant amount of trauma and still recover.  "It is critical for every officer who hits the streets to understand that most traumatic injury is not lethal and that the odds of survival are strongly on their side; even if they are shot or stabbed" says Dr. Dennis.  
The Trauma Rapid Intervention Kit (T.R.I.K), created by Dr. Dennis, is one of the many portable tactical medical kits available on the market today. It is made to fit inside a cargo pocket, easily tears open (even under stress) and is sterile.

Dr. Dennis designed the TRIK kit based on three tenants: How can you get the most versatility from the smallest lightest tamper proof set of tools?  What tools stood to make the greatest difference in survival? What tools and techniques could be taught to non-medical individuals and still allow for have optimal skill retention with minimal educational decay?
The TRIK contains seven critical components:
• PVC Sterile Nasopharyngeal Airway (NPA) and Lubricant — Designed for airway management of the responsive or unresponsive patient. The non-toxic, water-based lubricant allows the NPA to slide through the patient's nose and past their soft palate, keeping the airway open and secure.
• Trauma Shears — designed to cut through seatbelts, leather, clothing etc. but have a blunt end to prevent harm to the patient.
• Medical Tape — pre-started so easy to use especially in high stress situations when fine motor skills are compromised.
• Israeli bandage — designed for hemorrhage control and has compression and tourniquet functions. It can be applied effectively almost anywhere on the body to manage sever bleeding, or can be modified for use as a sling.
• Gloves (2 pairs) — protects the responder against blood or other bodily fluids.
• Mylar Emergency Blanket — insulated and weatherproof blanket d=reflects the patient's body heat back on to themselves to prevent hypothermia or shock.
• Abdominal Pad — bulky pad for large wound or to cover a burn, can be customized to stop a variety of bleeds.
These components, combined with the skills, the ability and the confidence to use them properly, may indeed save the life of you, your partner, or an injured citizen.