PRESS RELEASE
Rescue Essentials announces comprehensive line of discreet emergency medical kits for Executive Protection
---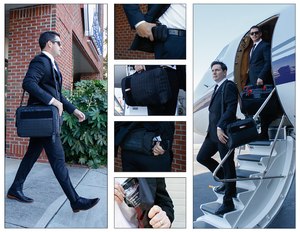 LELAND, N.C. — The Executive Protection series, featuring more than a dozen medical kits designed for covert and discrete carry, is now available from Rescue Essentials.
These enhanced medical kits are designed to help executive protection professionals blend in while being at the ready, whether in the boardroom or on the go. The line features several newly engineered kits, including the signature Executive Protection Kit, designed to resemble an everyday laptop bag, and the Flat IFAK, with a sleeve design that allows for rapid access.
Nick Disparti, program manager for federal and defense markets with Rescue Essentials, said the company has a background in building executive protection kits.
"We have a history of designing kits for non-uniform personnel wearing a business suit or street clothes, who need to carry a medical response kit covertly" he said. The company also works with government agencies, large foundations and corporate entities to design and assemble custom executive protection medical kits.
"How can I carry medical in my business suit without it being obvious that it's there?" Disparti said. "Is there a way for me to carry medical in the lapel pocket of my jacket? On my belt, or on my ankle? How do I carry a medical bag into a corporate office, without looking like I just jumped out of an ambulance or drawing a lot of attention."
Gear designed to blend in
While the medical gear executive protection professionals require can be similar to an EMT's, it must be carried in a more covert and discreet manner.
"For instance, the new Executive Protection Kit (31-0425) was built into a bag that looks on the outside like a 15-inch laptop bag you would see in any corporate office," he said. "You could carry that into a business meeting, and no one would look twice at it. On the inside it's a full basic life support EMT kit with all the supplies you need but not something that anyone would ever even think is a medical kit."
Rescue Essentials has a pocket-sized Concealed Carry Trauma Kit (30-0975) that holds a tourniquet and a bleeding control dressing that can slide into the lapel pocket of some suit jackets, Disparti said. Another small pouch, the Covert Carry Advanced Trauma Kit (30-0948), is designed to fit on a standard business suit belt.
"But when I put a jacket over it you can't see it," he said. "It's thin and it's not bulky. It's black so it blends in with everything. No one can really tell I'm even carrying it on me."
The new line also includes a full BLS First Aid and Trauma Kit with O2 Delivery (31-0450), termed the FAT Kit, originally developed for specialized government agencies, Disparti said.
"The FAT Kit is the top of the line for the executive protection team. It's a large kit, containing the supplies they need to fully support their protectees until they can deliver them to definitive care."
Rescue Essentials' Flat IFAK is another versatile option for concealed carry and covert carry scenarios. The kit can be MOLLE-mounted in a variety of locations or worn on a belt and concealed under a jacket. It also can be combined with the MOLLEHead Vehicle Mount (70-0593) to provide rapid access and low-profile storage.
About Rescue Essentials
Since 2007, Rescue Essentials has remained focused on its original goal — to offer top quality tactical, emergency, combat, and outdoor medical products at affordable prices, delivered in a timely manner with flat rate $4.99 shipping. Rescue Essentials core capabilities includes the design, manufacture, and assembly of purpose-built trauma and medical kits for law enforcement, EMS and government agencies.

Request more info from Rescue Essentials
Thank You!