How License Plate Recognition (LPR) can be a force multiplier
The combination of LPR and traffic data management systems can reduce the traffic enforcement workload for understaffed police departments
---
Sponsored by Jenoptik
By Police1 BrandFocus Staff
At a time when border enforcement and police departments are short-staffed and work assignments are being prioritized, many agencies are responding by reducing the number of officers being assigned to traffic enforcement. Such reductions run the risk of wanted criminals not being apprehended before, during or after committing serious crimes such as murder, kidnapping, theft and terrorism.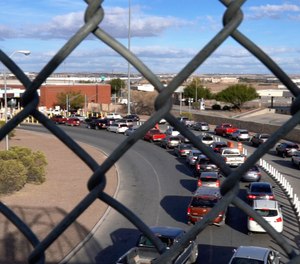 Fortunately, technological solutions such as License Plate Recognition (LPR) can help. LPR compares camera-captured photos of license plates to a department's database of stolen and wanted vehicles. When integrated with back-office analytical software, LPR can bridge the staffing shortage gap by automatically monitoring, detecting, alerting and tracking vehicles of interest and patterns of movement.
Whenever a suspect license plate is found, the LPR system can alert human operators of its presence, allowing them to take appropriate action. Otherwise, it operates in the background without requiring human intervention. This makes LPR a true "force multiplier" for staff-strapped departments.
Known for its VECTOR² LPR digital cameras, Jenoptik has developed sophisticated LPR analytical software to provide border control, customs and police departments with the full-featured license plate reading, screening and alerting functionality they need to find and catch suspects.
Jenoptik's TraffiData and its mobile equivalent, TraffiApp, manage large, complex, fixed-site, in-car and portable LPR systems for police, capturing and alerting officers of hot listed and other vehicles. By doing so, TraffiData and TraffiApp provide officers, dispatch, and senior commanders with real-time situational awareness of vehicle location for faster interdiction and/or investigation.
The engine powering LPR data
Collecting real-time license plate imagery is of no use if the department has no way to analyze and act upon this data in a prompt, efficient manner. This is where Jenoptik's TraffiData is unique. It provides real time alerts in under 5 seconds, so that a real-time response can take place.
TraffiData manages large, complex, fixed-site, in-car and portable LPR systems for high-end users such as border control, customs and police departments. Modular and customizable, this platform's analytical capabilities support both live (as it happens) and retrospective (post-incident) incident analysis and reporting.
TraffiData can handle over 100 million reads per day, together with their associated plate and overview images or motion video clips. All of this LPR data is automatically compared against various hot lists from the local, state and national authorities.
Any TraffiData-qualified matches generate real time alerts, which are distributed to all users via audible/visual messages, SMS and email. The platform's GPS mapping facility even overlays alert information onto detailed digital maps in real time, enabling users to clearly identify and respond to alert locations.
Logged-in TraffiData users can filter their alerts as needed, all while department-defined access levels ensure reliable system security at all times. To further enhance TraffiData's security, user activities are fully auditable by the TraffiData administrator as needed.
TraffiData's report generator allows its data to be presented in various user-friendly formats. Standard reports, which can be distributed via email, can be configured to automatically generate daily statistics to users, along with additional information such as vehicle counts and flows.
All of these TrafficData features can be accessed and managed using a desktop Windows application or a web-based interface with a secure online connection to the TraffiData server.
TraffiApp takes TraffiData on the road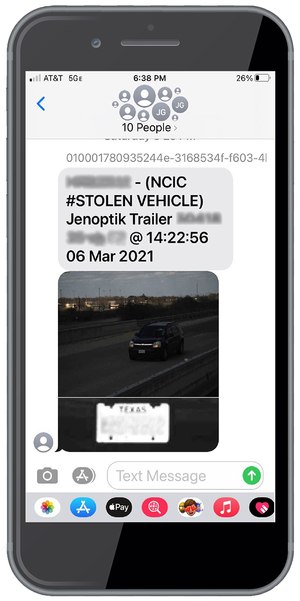 TraffiApp is a mobile app that runs on Apple iOS/Android smartphones and tablets. It provides patrol officers with a portable LPR system no matter where they may be, by synchronizing wirelessly with Jenoptik's TraffiData back office system.
To make life easier for patrol officers, TraffiApp's alert options can be pre-configured to meet their specific duty priorities and requirements. This includes filtering live alerts using the user's real-time position, so that their smartphone/tablet only receives LPR hits within a selected radius of the device's location. The user can choose to increase or decrease this distance as required.
When a TraffiApp LPR alert is received, it is displayed as a message notification on the smartphone or tablet, in the same way that consumer mobile apps present such alerts. Selecting the alert will display the full LPR details, imagery and map location.
TraffiApp's intuitive interface allows officers to perform real time vehicle searches. They can refine the search by date, time and distance, ensuring that the returned search data is relevant to the user in their current location.
As well, TraffiApp can use an officer's smartphone or tablet camera to function as a mobile LPR device. They just snap a photograph of a vehicle's license plate and send it into the TraffiData platform. The system does the rest, including alerting them if the plate being checked is on a hot list of stolen and wanted vehicles. Any data collected using TraffiApp is immediately available for management, searching and analytics within TraffiData.
Use technology to do more with fewer officers
By using Jenoptik's TraffiData and TraffiApp, law enforcement agencies can substantially improve their traffic surveillance and response capabilities while reducing the number of people assigned to these duties. For border control, customs and police departments trying to staff too many jobs with too few officers, this is very welcome news.
Visit Jenoptik for more information.

Request information from JENOPTIK
Thank You!