PRESS RELEASE
Stalker Radar's New X-Series LIDARs are the Smallest and Lightest Law Enforcement Lasers in Traffic Speed Enforcement
---
Stalker Radar's new X-Series LIDARs are the smallest and lightest LIDARs in the industry.
Stalker Radar and LIDAR, the world leader in speed measurement, introduced its new X-Series traffic speed enforcement lasers at the International Association of Chiefs of Police (IACP) Conference and Law Enforcement Education and Technology Exposition.
"The all-new Stalker LIDAR XLS and XS are the smallest and lightest hand-held, gun type lasers on the market today," according to Bill Fagan, Stalker Vice President of Sales and Marketing. "Stalker Engineers achieved substantial reductions in size and weight through development of circuit miniaturization technologies and advanced manufacturing techniques.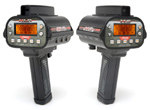 "At 2.3 lbs. including battery handle, the X-Series may weigh the lightest of all the hand-helds, but it's no lightweight," Fagan said. "The Li-Ion battery handle provides ample power to last two or more shifts, depending on how long and often speeds are measured. The ergonomic design, coupled with the light weight make the X-Series LIDAR comfortable and accurate to use.
"Acquisition time is under 4/10s of a second while retaining the kind of solid target tracking Stalker LIDARs are known for."
The X-Series Long Range (XLR) is the best choice for targets as far as 4,000 feet away while the X-Series Standard (XS) is ideal for metropolitan and suburban departments where target ranges don't exceed 2,000 feet.
The X-Series LIDARs feature rugged molded polycarbonate bodies that stand up to almost anything encountered during an officer's day. Or night.
Both LIDARs feature tracking (continuous) and single-shot modes with a variable auto tone corresponding to target speed, much like a radar's Doppler tone which many officers are already familiar. There is no tone when no target is being tracked, while tone repetition increases as the beam moves into the target and return signal quality increases.
Speeds can be measured from 1-299 mph, 2-481 km/h, and 2-344 knots, all with ±1 unit accuracy. They are waterproof and can operate from -22°F to 140°F.
Both the XLS and XS are FDA/CDRH CLASS 1 Laser Devices which means they are eyesafe.
The X-Series LIDARs are listed on the International Association of Chiefs of Police Conforming Product List.
Stalker introduced its first LIDAR in 1997. The LIDAR X-Series is designed and manufactured exclusively by Stalker Radar, the world leader in speed measurement. Law enforcement organizations, professional sports teams, and manufacturers around the globe requiring state of the art speed measurement applications look to Stalker Radar products for the utmost in quality and value.

Request more info from Stalker Radar
Thank You!