Book Excerpt: "Bionic Trooper" from Blood Lessons
---
Editor's note: Trooper Matt Swartz has been named Athlete of the Month for April 2009 by the 2011 World Police and Fire Games. Read a press release here.
By Chuck Remsberg
Senior Police1 Correspondent
A few days after waking up from a four-week coma, Trooper Matthew Swartz swung out of his hospital bed, started to walk to the bathroom—and fell flat on his ass. Sprawled on the floor "buck naked," that was the moment he realized he no longer had a lower left leg.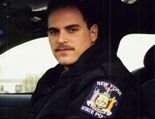 NYS Trooper Matt Swartz
More than 19 months later, the 34-year-old Swartz today continues on a remarkable journey of self-renewal on which he has pitted gut determination against formidable odds to reach a goal many thought impossible. He has become the first trooper in the 89-year history of the New York State Police to work what that agency terms "full and strenuous duty" on the road, despite an amputated limb.
Nationally, he's part of a small but no doubt growing band of cop amputees, perhaps 70 to 75 in all out of some 800,000 full-time LEOs in the U.S., according to his informal research. Most, like Swartz, are believed to have lost lower legs; a few, hands. But all, he's convinced, share a common struggle.
"We take on our 'disabilities' like we take on evil on the job," he says. "When something bad happens, we crush it, we break it, we squash it - and then we move on to the next dangerous or challenging thing. That's what cops do."
To read the full chapter, buy Chuck Remsberg's Blood Lessons

Request product info from top Police Books and Training Materials companies
Thank You!