PRESS RELEASE
PoliceOne and Dubai Police Partner to Advance International Law Enforcement Training
---
PoliceOne received the Dubai Police Award of Appreciation for its support of law enforcement and its efforts in improving safety and security worldwide
SAN FRANCISCO, Calif. - PoliceOne.com, the leading online resource for the law enforcement community, announced that it has entered into an agreement with the Dubai Police Force to implement its PoliceOne Academy online training platform and partner in the creation of training content for international distribution.
In a memorandum of understanding (MoU) signed on October 17, the two parties agreed to a pilot program in which the Dubai Police will use the PoliceOne Academy, the premier online training platform for law enforcement agencies, and PoliceOne's original training content in official Dubai Police training.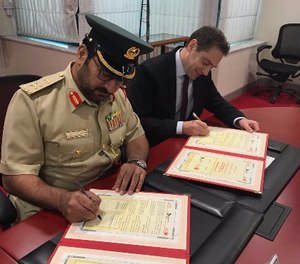 In addition, PoliceOne and Dubai Police will partner to develop training content in Arabic for international distribution, sharing subject matter expertise on key topics such as use of force, forensics and technology. The collaboration is aimed at improving law enforcement training within the Middle East as well as improving understanding of police work within the broader community. Content will be featured in their official publications, Safety & Security and Al Amn Magazine, which are read by both police and the public.
The Dubai Police also presented an Award of Appreciation to PoliceOne CEO Alex Ford for PoliceOne's longstanding efforts in providing mission critical online content and resources to departments worldwide.
"Dubai Police is recognized worldwide as a leading innovator in the field of law enforcement. I'm excited to be collaborating not only to implement our PoliceOne Academy, but also to improve law enforcement training and information sharing worldwide through PoliceOne.com," said Alex Ford, CEO of PoliceOne and Praetorian Digital. "It's clear that Dubai Police shares our mission of educating and advancing law enforcement to keep our communities safe and secure, and we're excited to work together to accelerate PoliceOne's expansion internationally."
Dubai Police, an integral part of the United Arab Emirates Police Force, is a modern police agency with a force of more than 15,000 employees. The mission of the Dubai Police, chaired by His Highness, Sheikh Mohammad Bin Rashid Al-Maktoum, Vice-President, Prime Minister, and Ruler of Dubai, is to improve the quality of life of by operating in accordance with the constitutional rights to enforce the law and maintain security and safety of the community and of everyone living in the country.
The PoliceOne Academy has recently announced a number of high-profile partnerships with major police agencies. In June, Colorado Peace Officer Standards and Training (POST) selected the Academy to provide training resources to all law enforcement agencies and 13,500 peace officers throughout the state.
For more information on the PoliceOne Academy, visit www.policeoneacademy.com/about-us.
About PoliceOne
With more than 810,000 registered members, PoliceOne.com is the leading website in the world for law enforcement. PoliceOne provides law enforcement-specific resources designed to help officers stay safe on the streets and more effectively protect their communities. PoliceOne is the only site to confirm the law enforcement status of all members, creating a trusted and safe community for the exchange and discussion of key law enforcement issues, including breaking news, top products and important officer safety strategies.
About PoliceOne Academy
PoliceOne.com, the leading online resource for the law enforcement community, launched the PoliceOne Academy in 2011 to help departments more efficiently and cost effective deliver training that helps them better protect their communities. With 200 courses and over 1000 short format training videos available, PoliceOne Academy gives departments and officers instant access to training across all devices that advances officers' performance and helps keep them safer on the streets. Built specifically for law enforcement, PoliceOne Academy offers a robust learning management and reporting system that meets compliance and tracking needs and is accepted for continuing education in 37 states. To learn more about PoliceOne Academy, visit www.PoliceOneAcademy.com or call (866) 941-4090.
About Praetorian Digital
Praetorian Digital is the leading digital media company and software-as-a-service (SaaS) training provider in the public safety and local government market, with a suite of properties dedicated to the distribution of trusted information and mission-critical training resources that help first responders and government officials better protect and serve their communities. Each of our properties - including PoliceOne.com, FireRescue1.com, EMS1.com, Corrections1.com, LocalGovU.com and Gov1.com - offer up to date news, analysis, workflow solutions and training as well as a grant assistance platform that has assisted departments and local governments in securing more than $150 million in funding to date.

For more information on Praetorian Digital, visit www.praetoriandigital.com.

Request more info from PoliceOne Academy
Thank You!