SHOT Show 2011: Meggitt Training Systems offers education sessions for law enforcement
The XWT wireless target retrieval system is gaining traction following its announcement at SHOT 2010, and law enforcement agencies getting another close look at SHOT 2011
---
Larry Sunderlin of Meggitt Training Systems is going to be a busy man during SHOT Show 2011 in Las Vegas this week. In addition to being one of the company's go-to guys for demonstrations on the trade show floor — which officially kicks off tomorrow morning — Sunderlin and his colleagues will be offering several educational sessions as part of the Law Enforcement Education Program (LEEP). Nonetheless, Sunderlin spent a couple of moments talking with Police1 about the Meggitt XWT wireless target retrieval system, which launched at SHOT Show last year and is expected to get a lot of attention from police agencies at SHOT 2011.
Sunderlin told Police1 that the Meggitt XWT system is the company's latest target retrieval system, and the first to run wirelessly.
"There's no more communication wires, no more drive wires, to move the targets back and forth or up and down range," explained Sunderlin. "In the past, that's a big maintenance issue — people tend to shoot the wires out, target goes down, then you've got to redo the wiring, you have to shut down the entire range to go downrange to fix the problem. This is completely wireless, so that's no longer a problem."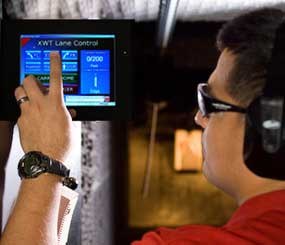 Sunderlin said also that the system runs on a NiCad battery "like you would put in an RC car," and is controlled via a Windows-based touch-screen PC that transmits commands via 802.15.4 communication protocol. When the system begins running out of battery power, the unit automatically runs back up the rail to the "home" position, docks, resets, and begins recharging.
"It's a very user-friendly system — you can set it up in certain positions, you can bring it to the home position, if you want to face it, edge it, you can adjust the lighting, you can program it so if you want a certain course of fire you can program it, you can run this via the local control here right in the stall, or you can run it from the RM10K which is basically a control room workstation that you use from a PC that's also touch-screen or a tablet, that you can stand out in the control range and control via the wireless tablet and control all the lanes at the same time."
If you're attending SHOT 2011 and want to take advantage of the free education sessions being presented by Sunderlin and his colleagues, below is the schedule as presented in a Meggett press release a few weeks ago. You can also drop by the Meggitt booth — number 12267 — for more information.
Live-Fire Training Facilities: Thinking Down Range
Tuesday, January 18th from 0930 hours to 1100 hours
Range design is one part of the firearms training equation. Successful use of a well-designed range comes with additional considerations. It is critical to plan for current and future training needs. Attendees will step through the range design process looking at all factors to consider during the initial design phase through the first round down range.
Simulation: Finding Value in a Virtual Training Environment
Thursday, January 20th from 0930 hours to 1100 hours
Firearms training has evolved. It's not gaming or even serious gaming. Simulation systems are firearms and judgmental use of force trainers that are saving time, money and lives. This session will discuss today's virtual firearms training; the benefits, the savings and the considerations necessary to develop an effective combined firearms training program.
It's Not About the Shot: the Physical & Psychological Effects of Combat Stress
Thursday, January 20th from 1115 hours to 1215 hours
It's not the shot that you must concentrate on, it's what's happening inside you that dictates the outcome. With a better understanding of the physical and psychological effects of combat stress, officers can mitigate the negative physiological impact during a potentially lethal engagement.
For more information about the XWT Wireless Target Mover you can visit the Meggitt Training Systems website.

Request product info from top Police Shooting Range Equipment companies
Thank You!