How this Tesla functions as a cop car without looking like one
This undercover cop uses a Model Y with custom, secure storage as a duty vehicle
---
Sponsored by TruckVault
By Laura Neitzel, Police1 BrandFocus Staff
I'd hazard to guess that when most law enforcement officers hear their department is getting new patrol SUVs, they're thinking Ford Explorers or Chevy Tahoes, equipped with secure storage for weapons and other gear. But for one special operations unit in greater Seattle, that patrol SUV is a fully-electric Tesla Model Y.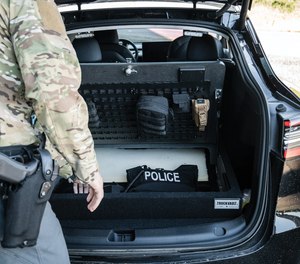 When I jokingly/not jokingly asked whether the department chose a Tesla to blend in with all the tech billionaires in the area, an undercover officer, Andy, explained why this particular model is cost-effective and why it was a good choice for his role in the department.
First, the Model Y – unlike its flashier automotive siblings – costs less than a Ford Explorer.
Second, the fact that it's a Tesla doesn't distract from its essential purpose as a duty vehicle for covert operations.
"I definitely do a lot of surveillance. Probably upwards of 15-20 hours a week I may be sitting in my vehicle watching a house or doing follows," he told me. "One of the benefits is it's less about fitting in and more about just not looking like a cop car."
Third, because Andy also serves on the U.S. Marshals Service Fugitive Task Force, he traverses the state in pursuit of errant outlaws. Given the number of miles he puts on his vehicle in a year, the savings add up.
"Financially, it makes sense when you think about the gasoline budget, especially for me driving all over the state," he said. "We're a couple of thousand a year just in gasoline that we're spending."
Because patrol officers' schedules are so in flux and they can be dispatched at any time, an electric vehicle doesn't make sense for them. But the fact that it's an electric vehicle that needs overnight charging is not an issue for Andy, who can usually plan his schedule to accommodate charging time. The electric SUV also aligns with his city's commitment to reduce its carbon footprint.
So, from a financial and logistical perspective, the Tesla Model Y has its advantages.
I asked Andy about comfort, and he answered with typical cop frankness:
"It's relatively comfortable – with the understanding that once you throw a gun belt on and an external body armor vest, I don't know if there's any way to be really comfortable."
Yeah, but where do you put stuff?
Working for both the city and the U.S. Marshals means that Andy needs to be geared up for practically anything.
"Part of what makes my job so hard is I could go from processing a crime scene, to kicking in a door, to arresting a fugitive," he told me. "There's just so much different gear that I need to carry."
While at 66 cubic feet, the Tesla has a decent amount of cargo space for a mid-sized SUV, that space is arranged differently than in a traditional vehicle. For instance, under the front hood – where you would expect to find an internal combustion engine – there is instead a small cargo space about the size of an overhead luggage bin on an airplane. The rest of the cargo space is primarily in the rear of the car and under the seats.
Because Andy takes the vehicle home at the end of the shift, when he stopped at the gym for a workout, he'd have to put his guns in a backpack and bring them into the gym. With no secure way to lock up other gear like his computer and radio, he'd throw a blanket over the exposed gear and hope it was out of sight. The fact that a Tesla Model Y also has a glass roof makes secure storage even more important.
"I had so much stuff I needed to store, but there wasn't really a secure place to store it, except for in the very front of the car. And that was too small for my guns and ammunition and other stuff like that," said Andy. "That is actually what led me to contact TruckVault."
Crafting custom storage
Andy's department was already using TruckVault to equip many of their patrol vehicles, so when he went looking for a secure storage solution for the Tesla Model Y, he started there. He was familiar with the name TruckVault, but until he researched the company, he didn't realize they were located in the greater Seattle area.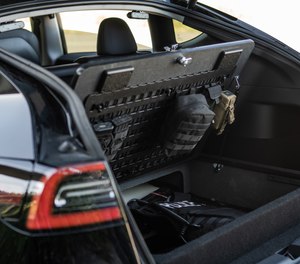 "I emailed them just asking them if this [custom storage solution] was something they might be interested in doing," he said, "and I was blown away at how excited and responsive they were to take on this project."
TruckVault hadn't worked on a Tesla Model Y yet, so they asked Andy if he could drive up to their location so they could see it in person and brainstorm. So, he did.
A design engineer measured the vehicle, talked to Andy about what kinds of custom storage he wanted, and figured out that they could modify a vault that's typically used on a Dodge Durango to fit the Model Y.
A few days later, the engineer brought a plywood prototype to perfect the fit, and a couple of weeks later Andy had the secure storage solution he needed – a custom-fit, locking lid that secures the hatchback's rear space. With the see-through roof on the Tesla Model Y, it was critical that the vehicle gun safe be concealed to avoid unwanted attention and impervious to break-ins if an attempt did occur.
"There's just a lot of gear for you to carry, so it's important for us as police officers to make sure we have secure storage for all of those items," said Andy. "All it takes is someone stealing one encrypted radio or one weapon, and that's $5,000."
Andy is grateful that TruckVault's secure storage in his Tesla Model Y avoids him having to carry his weapons when he goes to the gym or to take multiple trips between his vehicle and his home at the beginning and end of his shift.
"It's working great," Andy said. "The biggest thing is just me remembering where I put everything."
Check out Andy's Tesla Model Y.

Request information from TruckVault
Thank You!