PRESS RELEASE
Enhanced Badge and Star Graphics Available from Vinyl Graphics
---
use if there is a picture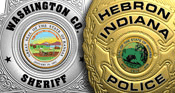 When Vinyl Graphics introduced its enhanced badge graphics they didn't know what kind of response to expect. Now a number of departments insist on it when ordering their graphics. There seem to be two reasons for that; the pride that departments take in their cars and the fact that it costs about the same as a standard door badge.
Choose from 12 standard styles and add your department name and State or City Seal. You could also have the designers at Vinyl Graphics take your specific department's badge and give it that 3-dimensional metallized look.* This gives you just one more reason to call Vinyl Graphics. They plan to add even more standard styles to their collection. Check out their website to find out more.
*There is a one time art charge to duplicate the look of your department's badge when not selecting one of the standard styles.
For more information visit www.police-graphics.com or call 800-521-1884.

Request more info from Vinyl Graphics
Thank You!