7 things to look for in an in-car video system
You know that dashcam video can enhance officer safety and police transparency, but do you know how to choose which system is right for your department?
---
Sponsored by 10-8 Video
By Police1 BrandFocus Staff
The advantages of in-car video are well known in law enforcement, particularly when it comes to protecting officers from unfounded complaints. Here are seven things to look for when purchasing an in-car video system.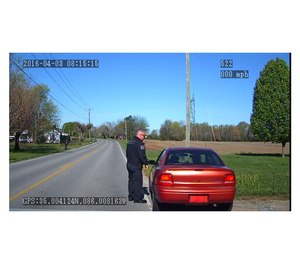 1. Minimal officer interaction required 
Police officers already have so many things vying for their attention in the cruiser. The last thing you want is to add another thing for them to operate in potentially dangerous situations. Look for a system where the cameras work in the background without much interaction from the officer.
For example, the HD4 In Car Video System from 10-8 Video can be set up for continuous recording anytime the vehicle is on or in motion, or set up to start recording when the officer triggers an event, like activating lights and sirens. Using built-in speed and location sensors, the system can be set to activate if the vehicle goes over a certain speed or if the vehicle is in any kind of crash.
"It needs to be simple, it needs to be reliable, and it needs to not get in the officer's way," said Kyle Ragsdale, chief sales officer for 10-8.
The officer can also start recording manually inside the cruiser or remotely activate the system from outside the vehicle using a button on the wireless mic that comes with the system.
2. Multiple channels recording simultaneously 
Without the ability to do simultaneous recording, some in-car video systems require the officer to choose which camera to record from. Look for a modular system that can be tailored to your department's specific needs.
For example, the 10-8 Video system is completely modular and supports up to four cameras recording simultaneously and synced.
"If you need a single camera system now and decide to order more cameras later, you can always integrate those cameras with the same DVR and not have to change out any equipment," said Ragsdale.
A two-camera system with the forward-facing dash camera and a prisoner transport camera facing the back seat is one popular configuration, he says. Some departments will take a third camera and put it facing out the back of the vehicle, he adds, and others mount one looking out either side of the vehicle for a total of four cameras.
"Those four cameras are interchangeable," said Ragsdale, "so if you need four interior cameras, like for a prisoner transport van or bus, that's an option. If you need four exterior cameras, you can do that also."
An added benefit of this modular approach is that should any of the cameras fail or have a problem, it can be swapped out quickly.
3. Built-in connectivity 
Between the MDT, radio and all the other communications devices in a police cruiser, there are plenty of demands on the onboard antenna and router for connectivity. Look for an in-car video system that includes its own built in WiFi so that it can automatically and independently log in and download videos to the agency's video storage any time the vehicle is in range of the agency's network.
The 10-8 HD4 In-car Video System includes WiFi as a standard feature. This built-in connectivity allows authorized users to see each vehicle on the network, see a live view of the cameras and search and pull specific recordings over the network. 10-8 also offers a 4G option that allows administrators to log into any equipped vehicle and get a live view over a cellular data network to see remotely what each camera sees in the field, as well as view a map with the vehicle's location.
4. Plenty of data storage 
Video is great, but data storage can be a real challenge, especially when it comes to HD video. Look for a system with sufficient data capacity onboard to cover storage for at least a week. How often you need to download the video and how much central data storage your department needs will depend on local law and policy, so be sure to check those requirements and choose a system that will keep you in compliance.
With the 10-8 system, the video is stored on the digital video recorder in the vehicle on an SD card (behind a steel security door with a lock and key for security). Most officers get 10 to 14 days out of the 32GB card that ships standard with the DVR, says Ragsdale, but the system can hold up to two 128GB cards for a total of 256GB. Should the system reach its capacity, it will start overwriting the oldest events first.
"There should never be a time when the system is not recording due to lack of space," said Ragsdale.
5. Constant high-quality recording 
As mentioned above, you don't want officers to have to fiddle with the dashcam in the middle of a situation. You also don't want to miss what could be critical moments leading up to a problem. Look for a dashcam system that is always maintaining a video record in the background.
The 10-8 HD4 system includes a Time-Slip feature to ensure that the moments leading up to activation are also captured on video. Administrators can set the system to include a brief time before the event to be a permanent part of the record and later preview that pre-event footage as needed.
The quality of the video determines how useful the video will be for review and evidence, so be sure to look for a system with these basic video-quality features:
High-definition recording to capture a high level of detail in playback.
Pre/post-event recording to capture developing events.
Wireless microphone to capture officer conversations outside the vehicle.
Low-light functionality to capture details in the dark.
6. Rugged and reliable
Police gear has to be tough, even the electronics. Look for rugged hardware built to withstand constant wear and tear. The fewer moving parts to break, the better.
Enclosed in an all-metal casing, the 10-8 solid state DVR is designed specifically for mobile use. With no moving parts or hard drives, it is able to withstand plenty of bumps and vibrations and keep on recording. Free tech support is available Monday through Friday, 8:30 a.m. to 4:30 p.m. Central time, and help desk emails are monitored 24/7. Even with tens of thousands of units on the road, Ragsdale says, the hotline gets an average of less than five calls per day.
"We just don't see a whole lot of tech support calls," he said, "and when we do, 90% of the time, it's something that can be fixed over the phone."
7. Affordability
Funding is an issue for any department, especially in smaller jurisdictions, and it's important to ask whether a vendor requires an ongoing subscription and what kind of warranty they offer.
For example, 10-8 offers a simple pricing structure with no contracts or fees. The base system, which includes the DVR, the dashcam, the officer-worn microphone and either a mirror monitor or a stand-alone monitor, is $1,695, and additional cameras are $300 each. The 10-8 dash cameras come standard with a three-year, no-questions-asked warranty, free tech support and free lifetime software and firmware updates.
"We are owned and operated by a now retired sheriff's deputy and narcotics officer," said Ragsdale. "We design all products from the officer's point of view, and their needs come first."
For more information, visit 10-8 Video.
READ NEXT: 5 reasons why a police department needs an in-car video system

Request information from 10-8 Video, LLC
Thank You!