Kustom Signals releases monitor control option for in-car video
Kustom Signals Inc. created this alternate monitor controller to mount almost anywhere without interfering with existing backup camera systems
---
By Police1 Staff
Kustom Signals, Inc. announced the release of the Anywhere Monitor Controller (AMC) option for their G-3 Vision in-car video system. The AMC is a compact controller that can mount almost anywhere and is interchangeable so that systems can change from one vehicle to another with ease.
This new controller offers the same intuitive interface as the G3 Vision's popular Mirror Monitor Controller (MMC) while complying with the standards set forth by NHTSA's FMVSS 111.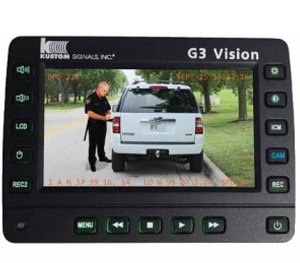 Kustom Signals Inc. created this alternate monitor controller to mount almost anywhere without interfering with existing backup camera systems.
For more information, visit www.KustomSignals.com or visit booth #2429 at IACP.