Why the in-car video system is the logical hub for digital evidence
Today's law enforcement in-car video systems interconnect devices officer-worn and in-vehicle devices for safe storage and convenient access
---
Sponsored by COBAN Technologies
By James Careless for Police1 BrandFocus
Digital technology is a way of life for today's law enforcement officers. Their patrol vehicles are equipped with sophisticated mobile computing systems, vehicle cameras, license plate readers, radios, light bars and other electronic devices. Meanwhile, officers themselves wear and use body cameras, portable radios, ruggedized smartphones, GPS tracking equipment and other miniaturized electronics.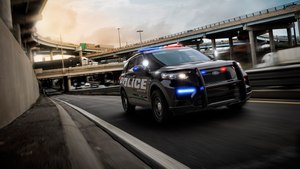 Collectively, the data generated by these devices are important sources of digital evidence for law enforcement, be it to show the history of a high-speed chase, the apprehension of a suspect or an officer's behavior on the job.
The downside is that this digital evidence tends to be stored independently on each device. This makes the safe storage of and reliable access to this data a time-consuming task for law enforcement at best and a vulnerable source of information loss at worst.
This is why in-car video system manufacturers such as COBAN Technologies have transformed the in-car video system from being a simple digital video recorder (DVR) to a centralized, intelligent in-car information hub connected to every digital device being used in the vehicle and by officers. The intelligent in-car video system also serves as a single point of contact for collecting and storing data from all devices, and then securely transferring this data into the department's record system for long-term evidence storage and access.
The power of centralization
Using an intelligent in-car video system as an information hub provides numerous advantages to LEOs and their departments.
First, employing centralized storage means that multiple bodycam and vehicle camera videos are all kept in one place, with their outputs being viewable in a single multi-window video. The result: When an officer and their commander review the case afterwards, they can see what actually occurred from a variety of angles, ensuring an accurate historical record and after-action analysis. Along with the media, metadata and information from other connected devices – like cellphones, vehicle sensors, and other police equipment – can also be stored and linked. This allows for greater efficiencies in discovery, as well as provide situational awareness, where a dashcam video is linked with bodycam video, a dispatch record, RMS information, vehicle metadata, as well as other media created in nearby locations at the same time.
Next, using central storage makes it easy to securely offload the data into the department's own servers and to document the chain of custody if required. With the proliferation of the connected officer and agency, this also allows for sharing and auditing of the data with judicial entities, including courts and district attorneys.
Third, implementing centralized storage eliminates the risk that the digital equipment being used by LEOs – whether bodycams, license place readers, or mobile computing devices – will not be compatible with each other (e.g., speaking the same "digital language"). This is because any in-car video system interoperability issues will be detected and fixed at the vehicle integration stage rather than discovered after the fact when critically important footage can't be readily accessed.
As well, every action that takes place in the patrol car – right down to switching on the light bar and accelerating into traffic – can be centrally recorded by the in-car video system in real-time. This gives the department access to a complete cross-referenced record of a specific incident as it happened. It also provides officers with digital proof of having followed departmental procedures and commanders with the means to accurately identify and correct infractions.
Finally, storing this information in a rugged central unit backs up each digital device's individual onboard storage. Given the legal importance of digital evidence, having this kind of built-in redundancy – with the data being stored in two locations – is a major plus. Additionally, like an airplane's black box, this data can prove to be priceless, in the event of a catastrophic situation like a vehicle crash or fire.
COBAN's FOCUS H1
COBAN Technologies' FOCUS H1 (H stands for Hub) is a prime example of what an intelligent in-car video system can deliver to law enforcement.
The FOCUS H1 offers all the centralized functions described above, with the ability to support up to six HD channels (three cameras standard). It can also run third-party artificial intelligence-based (AI) video analytics software to detect and identify types of vehicles, weapons and objects in real-time, plus check identification documents for authenticity. As part of the ongoing efforts for integration by Law Enforcement, this data is all stored in a non-proprietary, industry-standard format.
To provide an extra layer of digital evidence protection, the FOCUS H1 records all the video captured by the in-car video system onto a separate 128Gb internal drive. (The high definition video it captures is encoded to maximize quality while reducing data storage requirements.) This redundant storage is in addition to the FOCUS H1's 64Gb/128Gb solid state removable drive. This data can also be encrypted both in-transit and at-rest.
COBAN refers to this extra drive as "FailSafe technology." It and the main removable drive are protected by the FOCUS H1's uninterrupted power supply (UPS). The UPS is programmed to put the in-car video system through a proper shutdown routine if the vehicle's battery fails, thus avoiding data loss.
The FOCUS H1 is controlled by a 4.3-inch LED touchscreen that can be operated by gloved hands. It also comes with an intelligent wireless microphone or integrated body camera that the wearer can use to trigger two user-defined functions on the system. Finally, the FOCUS H1 is so rugged that it meets the US Department of Defense's MIL-STD 810G for toughness and shock resistance.
Given the capability of today's in-car video systems, it makes sense for law enforcement to centralize their vehicle and officer-worn digital devices onto these platforms.
The heightened protection that intelligent in-car video systems provide for digital evidence collection, and the ease with which it can now be stored, accessed and transferred by LEOs, makes this a sensible option for departments large and small.
About the Author
James Careless is a freelance writer with extensive experience covering law enforcement topics.

Request information from Safe Fleet Law Enforcement
Thank You!