PRESS RELEASE
Lazer Star Introduces New LED Light Bar Series
---
Off-road vehicle lighting showcases latest in LED Technology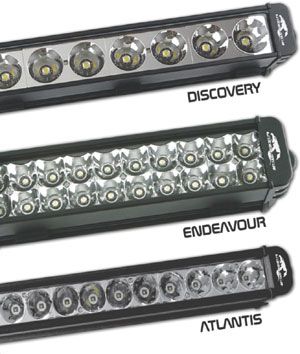 Paso Robles, CA — Lazer Star has released a new series of LED light bars for off-road vehicles. Outfitted with the newest Cree LED technology, each light bar in the LX LED series is IP68 rated – meaning that they are completely dust-tight and watertight – as well as 8.6g shock-resistant. Each light has a polycarbonate lens, slide track mount, and DC 9-32V input. The LED light bars are low-draw with no hot spots.
"We stay on top of the market and we are offering the latest and greatest in LED technology with this new product line," Ryan Paine, Vice President of Business Development said. "We manufacture our lights to operate at the best possible rate to maximize the ratio between low draw and high output. "
Lazer Star offers a range of light bars to suit a variety of needs, from the everyday driver, to the off-road enthusiast, to the racer. The three bars in the LX LED Light Bar Series are named as a tribute to the U.S. space shuttle program:
Atlantis: a single row of 3-watt lighting in a compact 1-3/4" profile. The light offers 300 lumens per LED, and lengths range from 6" – 42". The Atlantis bars are ideal for ATVs, full-time street, and recreational vehicles.
Discovery: a single or double row of 10-watt lighting, the Discovery produces 1,000 lumens per LED. Lengths are available from 6"-50". The Discovery is ideal for racing vehicles and serious off-roaders.
Endeavor: a 3-watt, double-row light bar with a compact 2-3/4" profile. The Endeavor produces 300 Lumens per LED, and lengths range from 4"-42". The Endeavor 2x2 is ideal for on-road driving for trucks and motorcycles.
The LX LED light bar series are used for racing, motorcycles, Jeeps, trucks, SUVs, ATVs, side-by-sides, and quads. They come in a variety of lengths, sizes, and wattages to meet all off-and-on-road needs.
"What makes us stand out is we offer a full line of LED products – not just one or two LED options," said Paine. The Lazer Star LX LED light series was designed in Paso Robles, California. Each light bar is protected by extruded aluminum housing, which dissipates heat, and a shatterproof polycarbonate lens.
While Lazer Star's main market is off-road and racing enthusiasts, what originally put them on the map when they started in 1992 was the safety that their lighting products provide. Its products provide so much light that they make night driving significantly safer.
Lazer Star was founded in 1992 and is a family-owned and operated company. It started out to support the Scott's family hobby, riding sand dunes. Vice President Ron Scott launched his father Pat's idea with little more than a magazine ad and a desk in the corner: the 50-watt bullet-style light was the first product made, and the line naturally evolved from there to include over 300 variations.
In 2003, Lazer Star broke off from the parent company. As of June of 2008 the company has been located in Paso Robles, Calif., a place where the family had vacationed for 40 years. Since then, they have continued to grow and have expanded their product line. The newest expansion is with the LED light bar line, which showcases the latest in lighting technology. They have also expanded their staff and in January 2012, teamed up with R&R Marketing Consultants, Inc. Lazer Star is looking forward to an exciting and prosperous year with this new team of established salespeople.