Honda model chosen as Wash. troopers' new ride
The Washington State Police Department's preferred motorcycle had previously been BMW
---
By Mike Prager
Spokesman Review
SEATTLE — Ninety years ago, the Washington State Patrol was formed with troopers riding Indian motorcycles.
The iconic bikes were replaced in recent years with BMW motorcycles for the state's 43 troopers that ride on two wheels.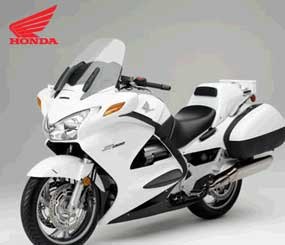 Now, those troopers are getting new rides: the WSP is switching to Honda.
"I think it's a little bit smoother than the BMW, especially at higher speeds," said Trooper Jeff Sevigney, one of four motorcycle troopers in the Spokane region.
"It's a little bit easier to ride," he said.
The Honda ST 1300 PA is powered by a four-cylinder engine arranged in a "V" alignment with a five-speed transmission. The model was introduced in Europe in 2002. It has well-placed crash bars along the sides to protect the driver in case of a spill.
The bike will get Sevigney in and out of tight spaces and can go where a patrol car cannot. "We are less noticeable," he said.
The 15-year veteran won't say how fast the motorcycle will go. "Fast enough is what I tell people," he said.
Last week, he was working traffic along U.S. Highway 195 near Cheney-Spokane Road as part of a stepped-up enforcement and safety program along that busy corridor.
It didn't take long for him to pull over a few drivers. Within a few minutes, he nailed a semitruck driver going over the limit.
Motorcycle troopers typically ride from March to November. They retreat to cars during winter months.
A statement from WSP headquarters said, "The Honda ST 1300 PA was specifically manufactured for law enforcement use.
"The Honda was chosen over other models because of the balance, maneuverability, acceleration, overall performance, availability of service, and lower purchase and maintenance costs."
Copyright 2011 Spokane Spokesman-Review


Request product info from top Police Motorcycle Accessories and Gear companies
Thank You!