Go Rhino! Push Bumper Testimonials
---
Clare County Sheriff Dept.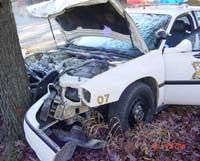 I am with the Clare County Sheriff Department, and I need to thank you for making a great product. You see, I think having your push-bar helped save my life in a crash I had last week. I think the braces going from the push-bar to the strut towers made all the difference. We had got struck by a car, and then we struck a tree. By the time we got to the tree, the air bags were deflated, and I needed something to absorb the energy coming my way. It is one of those things where you had to be there to understand, but your parts did the trick. I know you must be busy, so I will not bother you any more with my story, but I just had to tell you...Thankyou!! If you get some bean counter or customer come in and ask if you can make them a little cheaper, and with cheaper parts...show them these pictures and tell them this is why it is worth having better parts. If you look close at one of the pictures, you can see the car frame did not absorb anything, just the push-bar and bumper. Thank you very much.
PS: We will insist on one of these bars before we drive the replacement.
- Deputy Daniel Skaff
Harrison, MI
---
Chevrolet Police Demo Program
Go Rhino has been our primary push bumper of choice for all our upfit vehicles due to simple installation, durability and quality appearance. We look forward to the future of Chevrolet police fleet vehicles and upfitting them with your product.
- Noel E. Clason
Chevy Police Demo Program
---
Push Bumper Saved my Life!
I have a 2000 Ford Crown Vic an ex-Police car. I also have a 1997 Ford Crown Vic in which I was in a head-on collision. Your Go Rhino! Push Bumper SAVED MY LIFE AND MY CAR! The car was repaired back to new condition. Everyone told me that the Go Rhino Push Bumper SAVED MY BUTT! The impact was at a speed of 45MPH. The other person's car was totaled! SO THANK YOU, FOR BUILDING SUCH A FINE PUSH BUMPER!!!!
- Kevin P. Henderson SR
Glendale, AZ
---
Ridgecrest P.D.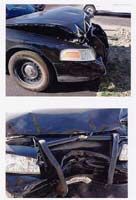 "During a crash of one the patrol vehicles in my fleet. The officer was running code, to back another officer who was in pursuit. As the officer driving this vehicle attempted to turn left, the tail came out from under the unit and it hit a guide wire of a telephone pole at a high rate of speed. Moving at a speed of approximately 40 mph, the vehicle then center-punched the telephone and came to a sudden stop. The Go Rhino! Push Bumper installed on the vehicle withstood a tremendous impact, as you can see from the photo''s. The officer, who was not wearing his seat belt, walked away from the crash without injury. It is my feeling and belief that the Go Rhino! Push Bumper absorbed the majority of the impact, resulting in a much less force for the involved officer to endure. Thank You.
Sincerely,
Lois Mellor
Fleet Manager
Ridgecrest Police Dept.,CA
---
Nevada Highway Patrol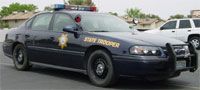 I have installed the Go Rhino Skid Plates on the 2003 Ford Crown Victoria Police Interceptors Nevada Highway Patrol built on last years models and I have had a year to evaluate the performance on the skid plates.I have inspected the skid plates after a year and the skid plates have protected the under carriage from rocks and other road debris that would have damaged the radiators, steering rack, front cross member and cooling lines. The skid plates were damaged however the vehicle remained undamaged and we have not experienced any expense because the Go Rhino skid plates did the job you said they would.The Go Rhino skid plates have literally have saved the Nevada Highway Patrol thousands of dollars in repairs and vehicles that would have been placed out of service if the skid plates were not installed.I have ordered Go Rhino skid plates for the 2004 Crown Victoria Police Interceptors and I would not assign a Patrol unit without the installation of a Go Rhino skid plate.Thank you for an outstanding product and your company has literally saved the Nevada Highway Patrol thousands of dollars in repair costs.
- Al Robinson
Fleet Manager
Nevada Highway Patrol
Request product info from top Police Push Bumper companies
Thank You!