Go Industries' Enforcement Series: 2011 Dodge Charger Push Bumpers
---
use if there is a picture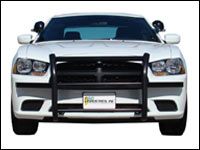 end picture
Richardson, Texas – Go Industries', is proud to announce the Enforcement Series. Go Industries, is a leading manufacturer of push bumpers for law enforcement agencies. With over 33 years of experience in manufacturing grille guards and metal fabrication, we bring un-matched quality and superior workmanship to a category that deserves only the best.
Go Industries' Push Bumpers are designed for rugged durability and style to match. This fully welded grille guard comes complete with quarter inch uprights (rubber impact strips installed), two 1.9" cross bars and one 1.25" bottom bar for extra protection. Next add the 3/16" heavy duty flat shelf to mount any speaker or siren you may require.
For those in need of extra protection try our fully welded wrap around grille guard (Patent Pending). Adding this wrap around gives you the ultimate in front end protection.
When you're offering protection why not protect your officers with the best; Go Industries Enforcement Series push bumpers.
About Go Industries
Go Industries manufactures and distributes other law Enforcement Products such as: trunk trays, window guards, and skid plates. For information on our Enforcement Series please call (800) 527-4345 or e-mail sales@goindustries.com.