Spotlight: CTECH Manufacturing introduces the One Hand One Motion drawer
Providing you the most efficient and safe way to haul the gear you need on the job
---
Company Name: CTECH Manufacturing
Headquarters: Weston, WI
Signature Product: MotionLatch™ Drawers
Website:  http://www.ctechmanufacturing.com/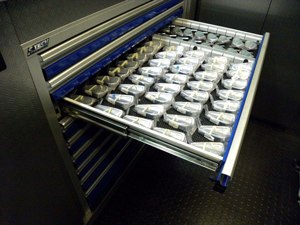 Intro: CTECH Manufacturing designs and manufactures lightweight aluminum carts, cabinets, and drawers for any application.
Where did your company name originate from?
CTECH stands for Cabinet Technologies
What was the inspiration behind starting your company?
Jim Greenheck, owner of CTECH Manufacturing, needed a lighter, higher quality cabinet which was built for a mobile application for his race trailer so he started CTECH to fill that need. 
What is your signature product any how does it work?
CTECH's patented MotionLatch™ drawer and door handles. With our cabinets mobile application we needed an easy drawer and door locking system which gave birth to the MotionLatch™ handle which utilizes One Hand, One Motion.
Why do you believe your products are beneficial to the police community?
CTECH has served the racing community since our beginning with the best engineered and manufactured aluminum storage solutions for mobile applications. With the introduction of SUVs as a major player in our law enforcement fleets, we saw storage needs and wanted to provide a light-weight, safe and secure solution. CopBox offers added inventory control to officers' gear, efficiency of knowing everything's location across a fleet, and added safety to the officers in collision and high speed circumstances, all produced with the same quality that has built our reputation in the racing community. We want to provide a securely mounted central location for all the officers' needs in the field. 
What has been the biggest challenge your company has faced?
As an engineering and manufacturing company, we can design products to fit almost any need, our biggest challenge lies in offering those benefits while still maintaining a baseline product so we do not stray too far from our original intentions.
What makes your company unique?
CTECH Manufacturing builds our cabinets, carts and drawer units for a mobile application rather than putting a cabinet built for a static purpose in a mobile application.
What do your customers like best about your products?
Lightweight aluminum construction with the strength of a steel cabinet, our Radius corners, MotionLatch™ locking system, powder coated finish and the lifetime warranty to the original purchaser.
What is the most rewarding part of serving the first responder community?
Providing this industry with the most efficient, safe and secure way to haul the gear they need to complete their jobs.
Do you support any charitable organizations?
Yes, but were prefer to keep them anonymous.
Is there any fun fact or trivia that you'd like to share with our users about you or your company?
CTECH is a racing-bred company built by racers for racers. Our pit carts are seen daily in most racing events from NASCAR to NHRA to ALMS, as well as local racers. Racers demand the best support equipment to be winners and effective. The business has been driven by customer needs, which has evolved our business to what it is today while still maintaining the same high quality and durability required of racers.
                                                                                
What's next for your company? Any upcoming new projects or initiatives?
The CopBox has been our newest addition to the CTECH family array of aluminum storage solutions, with great reviews and a superior product we feel it will become a large part of what CTECH is moving forward.
In our other divisions we have created a proprietary caster system for our mobile carts. Known as the BadAss caster, allowing for loaded down carts to be pulled with ease over all terrains. Included is our FlatFree tire, which is a closed cell foam design which never needs air or goes flat while increasing the load capacity from a traditional air-filled tire.