SOR Magazine: Lenco BearCat G4 is "security big wheel"
---
Editor's Note: The following article first appeared in the pages of Special Operations Report magazine and is reprinted by permission of the editorial team at SOR. We want to thank SOR Editors-in-Chief Samuel M. Katz and Steven Hartov for the excellent work they do deliver deliver news and feature articles about counterterrorism, intelligence, Law Enforcement, and Military Special Operations.
By Jack Satterfield, Special Operations Report
Security forces in overseas combat theaters—whether they are military personnel or diplomatic security agents—must remain constantly on the alert, ready to respond to attacks that arise without warning. These situations demand readily available protection for personnel on the move that shields them while they maneuver out of danger.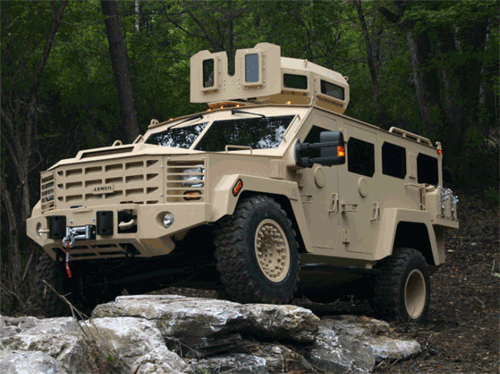 The BearCat easily can withstand hits from most common small arms, has plenty of room to accommodate not only a security crew but also ambush victims in need of rescue, maneuvers well, and can move out at high speeds when required.
The military's answer to this problem has been up-armored HMMWVs and MRAPs, neither of which provides a fully satisfactory solution to the problem patrols and convoys must face. On the one hand, HMMWVs are not robust enough to withstand heavy hits, while MRAPs sacrifice mobility and speed for heavy protection, albeit at very high unit cost. Domestic law enforcement has not yet had to contend with the ever-changing face and complexion of IEDs and roadside bombs, but there is nothing to prevent this from happening at least in theory. Moreover, several special operations units have gone up against heavily armed, barricaded criminals with the firepower that can devastate conventional vehicles.
There are, however, other alternatives available that offer the best features of both these approaches, along with new technologies that are enabling operators not only to conduct missions in urban environments with improved roads, but also in rough and wild terrain that would stop or disable less capable vehicles. One of the leading armored vehicles on the market today, the Lenco BearCat, has provided military, contract security and law enforcement operators with a good balance of capability and reasonable cost to address dangerous missions in Iraq and other violent theaters. The BearCat easily can withstand hits from most common small arms, has plenty of room to accommodate not only a security crew but also ambush victims in need of rescue, maneuvers well, and can move out at high speeds when required. BearCats are serving with police special operations and tactical teams throughout the United States, and they are a favored platform among private security agencies as well as military units operating across the world. The company will continue to produce this vehicle and demand for armored trucks probably will remain robust for years.
However, many BearCat customers have requested several vehicle advances from Lenco, most especially a heavier suspension and larger wheels, permitting higher clearance for rough terrain driving.
Len Light, Lenco CEO, and his team have listened to their customers and answered the call with the new BearCat G4 (Generation 4). "We've done exceptionally well with the BearCat," Light commented. "We've found, however, that many of our customers have urgent requirements for more blast resistance, especially when handling emergency responses in combat theaters. Several government and contract security agencies still use standard SUVS to move officials when they travel around Iraq and other dangerous areas," Light added. "Nearly all these trucks are black, so they stand out as clear targets for insurgent attacks. They could convoy with heavier MRAP (Mine Resistant Ambush Protected) vehicles, but these trucks are heavy, somewhat unwieldy and very expensive. BearCats can keep up with SUVs and cost far less than MRAPs."
The G4 carries the BearCat's design forward, but with additional ground clearance for hard driving as requested, as well as armor upgrades for high-risk convoy and protective service duties. Both versions share the same power plant, a PowerStroke 6.4L V-8 twin turbo diesel with plenty of power to move at high speed and 40-gallon gas tanks. The new model uses the same 125-inch wheel base as the standard BearCat, adds less than a foot in length and just a couple of inches in maximum width. The G4's 55-foot turning diameter is surprisingly tight for its size. Curb weight for the G4 is 17,550 lbs., up about 1,000 lbs. more than its predecessor. Gross vehicle weight rating (GVWR) for the G4 is 21,500 lbs., 2000 lbs. more than the standard BearCat. With its heavier weight, the G4 tops out with a 75 MPH sprint speed, while the original BearCat can hit 90 MPH. Both vehicles feature a rotating roof hatch and optional powered turrets with or without ballistic glass panels and blast shields.
"We wanted to keep a high amount of commonality between the G4 and the standard BearCat," Light explained. "That keeps costs down, and enhances production efficiencies."
The G4's tale of the tape is just part of the story. Lenco's new model is a four-door truck, making entry and egress much easier. Ballistic glass windscreen and windows throughout shield passengers sitting in Aberdeen-tested, blast attenuating bucket seats in front and rear. A large console in mid-front can accommodate a variety of communication and navigation equipment, and a telescoping stand for the turret operator extends between the rear seats. In the truck's rear area, two opposed bench seats have space for four additional passengers, and can be quickly flipped to face outward to use the gunports on each side of the truck. A single rear door permits quick access.
Several other visible features in the G4 set it apart from the standard BearCat. Side and rear windows are larger, providing better views for passengers without any degradation of protection from gunfire. Tubular running boards stretch from front to rear wheel wells to help passengers in and out of the slightly higher thresholds, while allowing potential blast frag and pressure to escape unimpeded. The G4's interior is clean and thoroughly functional, but built for comfort as well as protection, with sculpted GSS Cobra Blast seats in front and plenty of padding on the benches in back. Instant release weapon stands for all occupants provide active protection with return fire through eight gun ports (three on each side, one forward and one aft).
The G4's optional turret, installed in the vehicle's roof hatch, also is more advanced. Weighing in at about 1,300 lbs., the electrically powered version incorporated in a display vehicle provides plenty of visibility with ballistic glass panels in both the turret structure and the front gunner's shield. A standard gun pintle will accommodate M60, M240 and similar light machine guns to provide plenty of punch in emergencies.
"The turret is a really good option," Light said. "Our newest version is a bit more streamlined, but it still offers excellent protection for the operator and provides a full-quadrant field of fire for self-protection."
Although it's not as readily apparent, the G4's suspension marks a departure from its predecessor. The heavier structure supports larger 12R x 20, two-piece wheels with Hutchinson VFI run-flat tires rated for continuous speeds of 62 MPH. The original BearCat uses six 255/70R x 22.5F all-season steel belted radials with dual rear mounts.
Bigger wheels give the BearCat G4 a more imposing look, with more clearance to 14 inches even with a modified V-hull blast shield fitted under the chassis. The wheels also provide good performance in off-road situations on uneven surfaces. The G4 can handle a 41-degree approach angle and a 25-degree departure angle. Ramp-over angle is 42 degrees. The vehicle can safely handle a 33-degree side slope, even with the turret installed. It will drive up a gradient in excess of 60 degrees, and its fording depth is 30 inches.
Higher clearance and off road performance can be major advantages for the G4, since some comparable or larger MRAPs are not designed to operate outside of urban environments. "Our customers really like the BearCat, but they are also interested in getting the same protection from a truck that can get off the road," Light said. "We've found that the G4 is especially useful for perimeter security on large military bases or government installations. It's got the right combination of armor and mobility for rough ground that could be vulnerable to surprise attacks."
Of course the G4's major capability, shared by all Lenco armored vehicles, is ballistic protection. The basic vehicle will defeat small arms ammunition up to 7.62 x 51mm NATO ball, and it is upgradeable to handle .50 caliber M2 Heavy Barrel or 7.62 x 51mm armor piercing rounds.
Lenco has a variety of helpful options available for the BearCat G4 including an interior intercom system and a siren-public address system. End-users also can order several exterior features, such as convoy lights, go-lights, gun mounts, an electrically powered winch, a back-up camera, spare tire, a common remotely operated weapon system (CROWS) and protection against chemical, biological, radiological nuclear and high-yield explosives (CBRNE).
Although the G4 only recently came on the market, Light said it has been well received. "We've already taken several orders from government agencies, and we're getting lots of interest from private security organizations as well," he commented.
"Given its competitive price and its features, we think the G4 is a real value for agencies and companies engaged in the global campaign against terrorism and Homeland Security missions that require solid protection in dangerous situations."
Lenco Armored Vehicles has been supplying products to global military, law enforcement and security markets since 1981. The company's design and production facilities are located in Pittsfield, Massachusetts, where about 65 employees fabricate Lenco's growing product line, which includes the B.E.A.R, (Ballistic Engineered Armored Response) vehicle, the BearCat, the BearCat SUV and now the BearCat G4.
The company uses Ford Super Duty chassis for BearCat versions and builds up its vehicles from large sheets of Mil-Spec armor plate. The cab is big and comfortable, with seats worthy of a private jet, and adjacent gun racks, with M4s and M240s installed, can't help but give passengers a genuine sense of security.
Both BearCat models offer Lenco customers the capabilities to handle just about any task assigned. With the advent of the new G4, Lenco has addressed a full range of requirements for every type of law enforcement or military organization facing especially dangerous conditions.
Lenco BearCat G4 Specifications
Dimensions
Length 222.6 inches
Width 95.7 inches
Height 92/107.5 inches with turret
Wheel Base 125 inches
Body
Doors (5) Doors: 4 side/1 rear
Seats Up to eight personnel
Hatch Rotating with armored lid
Turret Optional with or without glass panels
Gunports (8) 3 per side/1 front/1 rear
Ballistic Capabilities
Standard 7.62 x 51 mm NATO Ball
Upgradeable to .50 Cal M2 HB / 7.62 x 51 mm AP
Blast Shield Modified V-Hull
Power Train
Engine 6.4L V-8 Twin Turbo Diesel
Horsepower 350 @ 3000 RPM
Torque 650 Ft./Lbs @ 2000 RPM
Transmission Automatic OD or Manual
Drive Axles Electronic Four-Wheel Drive
Chassis
HVAC Dual Air-Conditioning and Heating
Alternators (2) 320 Amps
Electrical 12 VDC
Fuel Capacity 40 Gallons
Weight Ratings
GVW 21,500 lbs Combat Weight
Curb Weight 17,550 lbs Base Vehicle
Payload Up to 4,000 lbs
Performance Data
Approach Angle 41 degrees
Departure Angle 25 degrees
Ramp Over Angle 42 degrees
Ground Clearance 14 inches
Side Slope 33 degrees with Turret
Gradient > 60 degrees
Fording Depth 30 inches
Speed 62 MPH with sprints to 75 MPH
Turning Diameter 55 feet (curb to curb)
Options
Convoy Lights Gun Mounts
Go-Lights Winch
CROWS Intercom System
Back-up Camera Spare Tire
Siren – PA CBRNE

Request product info from top Police Specialty Vehicles companies
Thank You!