Lenco BearCat® G3 Utilized for 31st Annual Florida SWAT Round-up International
---
Lenco returns for 4th consecutive 'BearCat Challenge' at FL SRI 2013
Pittsfield, Mass. – Lenco Industries, Inc., the global leader in the design and manufacture of armored police vehicles, announces they will have the latest model 4-Door BearCat® G3 on display at the 2013 Florida SWAT Round-up International, November 10-15 at the Orange County Sheriff's Office Range in Orlando, Florida. This competition-style event will utilize the BearCat ® G3 in a specialty team event called the Lenco BearCat Challenge.
The event, hosted by the Florida SWAT Association, includes training and education programs in addition to the six team based competition events. These events are geared for simulation of real life scenarios with the Lenco BearCat Challenge emphasizing weapon expertise and mobile deployment. The BearCat Challenge will require several members from each team to work as a unit to engage multiple targets while using the gunports and roof hatch to complete a timed course.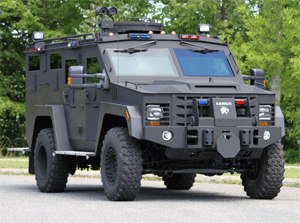 The BearCat® G3 is trusted by hundreds of tactical response and rescue teams around the United States. It offers exceptional off-road performance with standard 4-wheel drive and high ground clearance. In addition, its open floor plan can comfortably accommodate a fully-equipped 10 to 12-man tactical team. The G3 also features run-flat tires, full wrap-around running boards, front and rear strobes and a host of standard equipment designed to get teams safely in and out of the hot zone. 
Lenco is proud to provide a vehicle that will reinforce the education and training of law enforcement, military and correctional offices' agency response teams at SRI 2013.
About Lenco Industries, Inc.
Lenco Industries designs, develops and manufactures armored security vehicles for law enforcement, military, government and private security forces working to safeguard our nation's homeland security as well as downrange in Iraq and Afghanistan. Lenco's client base includes the nation's most prestigious law enforcement agencies, including the Los Angeles Police Department, LA Sheriff Department, Boston Police Department and the New York Police Department. Lenco has also designed and built Special Forces armored vehicles for the US Department of Defense. Lenco is a supplier to the US State Department, Department of Energy, ATF, US Marshals and other high profile government agencies. Lenco's product line includes the BEAR armored SWAT truck, and several variants of the BearCat, including the G4 M-ATV, MedEvac and VIP armored vehicles. For more information, visit www.LencoArmor.com.

Request more info from Lenco Armored Vehicles
Thank You!