PRESS RELEASE
Multi-wear ensemble offers multi-threat protection; Certified to meet NFPA 1994 Class 2, and NFPA 1992
---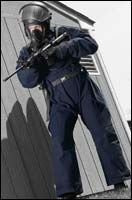 Tactix® MT94, a multi-wear ensemble designed to provide protection against a variety of threats, including chemical/biological terrorism agents, is now available from Lion RescueWear™. It is certified to meet NFPA standards 1994 Class 2, and 1992.
The MT94 is a versatile ensemble offering a high level of vapor protection as required under NFPA 1994 Class 2. Although the NFPA 1994 standard was established to address select chemical/biological terrorism agents, the MT94 has a wide range of uses, including technical rescue, HAZMAT, confined space rescue, decon, high-risk entries (such as narcotics labs), and bomb (secondary threat protection). In addition to guarding against challenges identified in NFPA 1994 and 1992, the MT94 also offers protection against flame and "weaponized" chemical and biological agents.
"What separates the MT94 from all other chemically-protective ensembles is its combination of durability, mobility, safety, and comfort," says Tom Martin, Lion Apparel. "During extensive wear trials, the MT94 really showcased its tactical mobility. It has proven to provide the wearer with a higher level of capabilities than they can achieve with alternative ensembles that might be used for the same function."
"In fact, they can do much more," adds Martin. "This increased capability allows first responders to perform more effectively in rescue operations. Plus, it's re-usable. It can be employed for multiple wears and have multiple washings, as long as it hasn't been exposed or contaminated."
The MT94 employs GORE™ CHEMPAK Ultra Barrier fabric, a thin, lightweight, and high-strength PTFE film with a tough NOMEX® outer shell. When combined with the streamlined design of the MT94, it delivers outstanding protection and creates a significant reduction in weight and bulk. This provides a greater range of motion, increased mobility, and ease in donning and doffing.
The MT94 interfaces with many commonly used CBRN breathing apparatus systems. Standard features on the tan fire and emergency services ensemble include a radio pocket on the left chest, roomy thigh pockets, hook and loop ID tabs, and yellow and silver 3M™ Scotchlite™ Reflective Material on the wrists, pants cuffs, and back. The MT94 is available in navy for law enforcement applications. Standard features include thigh pockets, hook and loop ID tabs, and hook and loop belt loops for duty belts.
NFPA 1994 Class 2 ensembles are intended for scenarios where the threat has been identified and the actual release has subsided. Exposure conditions could include contact with residual vapor or gas and highly contaminated surfaces at the emergency site. NFPA 1992 establishes requirements for chemical liquid splash protection where no chemical vapor hazards exist.
Tactix® and Lion RescueWear™ are tradenames of Lion Apparel.