A profession in crisis: Proactively recruiting in schools and minority communities
Law enforcement agencies must transform recruitment strategies to identify overlooked pools of candidates
---
By Nicole Cain, Faculty Member, Criminal Justice at American Military University
Many law enforcement leaders recognize recruitment and retention as persistent issues within their organizations. There is no simple solution to the recruitment and retention crisis, but there are initiatives that law enforcement leaders can develop to steer their agency in the right direction.
In the first article I wrote for this series, leaders were encouraged to evaluate internal factors, like the organizational structure, morale, policies, and processes to determine if improvements can be made. They should also evaluate how their salary schedule and other benefits like take-home vehicles, pension, and accrual of vacation time compare to other similarly sized agencies. It was also recommended to create a dedicated Recruitment and Hiring Unit (RHU).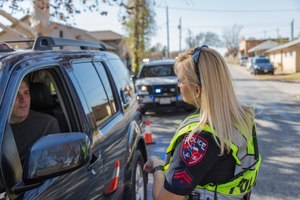 Proactive recruiting is necessary in the current environment of the policing profession. Law enforcement leaders and their staff charged with recruiting and hiring new police officers must transform recruitment strategies to identify overlooked pools of candidates including high school students, minority populations, and women.
Proactive Recruiting Methods in Schools
To maintain a constant influx of qualified police candidates, law enforcement recruiters must seek and identify future officers in local high schools, colleges and the military. It is especially paramount to develop innovative recruiting efforts that target high school students because this is when they are beginning to decide their career paths.
Recruiters should partner with School Resource Officers (SRO) to identify students who possess the qualities of their agency's "ideal candidate." Interested students can participate in internship programs, ride-a-longs, police camps, Law Enforcement Exploring Programs and other activities designed to build trust and confidence in the policing profession. Agencies can also partner with school boards to implement and support specialized public safety academies in local high schools. It is paramount to develop innovative recruiting efforts that target high school students because this is when they are beginning to decide their career paths.
Recruiters should develop working relationships with school administrators and teachers because they possess insight about the concerns and opinions of their students. Teachers can influence students' perception of the police with their words and actions, and by including police officers in school activities and classroom events. For example, teachers can give police officers opportunities to speak directly to students, the workforce of the next decade.
Recruiters should also employ their efforts in trade schools, junior colleges and four-year colleges by developing relationships with criminal justice program directors and counselors who can assist in identifying potential police candidates. Being present on local college campuses, including at college events and fundraisers, provides recruiters with opportunities to meet students and foster trusting relationships. Young people need to appreciate police officers as real people and not adversaries as the media often portrays them.
The Importance of a Diverse Police Force
Ideally, a police agency's demographics should mirror those of the jurisdiction it serves. According to a study in 2013 by Mike Maciag, minorities were underrepresented in most police organizations serving communities with a population of 100,000 or more.
Hiring officers who reflect a police agency's community serves two valuable purposes:
It improves external relations and increases understanding within the agency of the diversity of the community that it serves. For public services to be delivered more successfully, the police workforce needs to diversify.
Diversity within a police organization helps to build trust and legitimacy which improves the police-community partnership and aids police in performing public safety and crime-fighting missions.    
Police leaders and their recruiters must develop an "outside the box" approach to recruiting minorities and not rely on traditional methods like career fairs and job announcements. Instead, recruiters should develop targeted marketing campaigns designed to appeal to minorities, go to locations in minority communities, like schools and church groups, as well as community events such as those held by fraternal and professional organizations and social advocacy groups. Furthermore, it is paramount to develop working relationships with minority organizations, and to enable leaders in minority communities to assist in the recruiting effort.
The recruiting staff should be selected carefully and exemplify the diversity the agency wants to see in its potential recruits. Department leaders should also identify several officers within the organization who reflect the diversity of the community and develop them as recruiters.
Recruiting More Women in Policing
Women are generally underrepresented in the policing profession. According to the FBI, in 2017 only 12.5 percent of fulltime police officers in the United States were females. Law enforcement leaders must develop strategies to attract women to the profession. Some recruiting strategies include:
Developing internships and promoting ride-a-longs that introduce and orient women to the culture of policing;
Creating mentorship programs that provide women with the opportunities to better understand policing and to create connections with existing law enforcement;
Ensuring there are positive female role models within the department, as well as the RHU to encourage and mentor new female officers;
Offering longer maternity leave, developing a defined pregnancy procedure and providing assistance with childcare to foster a family-friendly environment.
Recruitment must be proactive and strategic. Law enforcement leaders can no longer wait for applicants, they must identify their staffing needs and develop a strategy to attract high school students, women and minorities to the profession.
---
About the author
Nicole Cain is an assistant professor with American Military University and has instructed numerous criminology and forensic courses online for more than 13 years. She has more than 19 years of law enforcement experience serving in a variety of capacities to include patrol operations, uniform crime scene, community-oriented policing (COP) and criminal investigations. She is currently assigned to the Criminal Investigations Section's Felony Intake where she prepares all felony cases for the State Attorney's Office. During her career in law enforcement, she has authored police reports, arrest affidavits and search warrants, observed autopsies, testified in court, processed crime scenes, interviewed witnesses, and conducted interrogations. She attends Southeastern University where she is pursuing her Doctoral degree in Education (Ed.D). To contact the author, email IPSauthor@apus.edu. For more articles featuring insight from industry experts, subscribe to In Public Safety's bi-monthly newsletter.