Proposed bill would end citizenship requirement for Nev. police officers
The bill would expand the number of potential candidates in the state as departments continue to struggle to recruit officers
---
By Ricardo Torres-Cortez
Las Vegas Review-Journal
LAS VEGAS — Noe Diaz, a North Las Vegas nursing student, would have been delighted to pursue a career in law enforcement.
But Diaz — a Mexican-born immigrant brought to the United States at age 1 — immediately faced a crucial roadblock: he is not a U.S. citizen, which is a requirement to become a police officer in Nevada.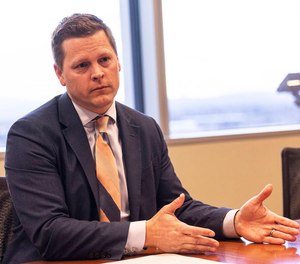 This upcoming legislative session, the city of North Las Vegas aims to change that with its proposed Assembly Bill 30.
If passed and signed by Gov. Joe Lombardo, the bill would remove the citizenship requirement, allowing any resident legally authorized to work in the U.S. to begin the process to join a police academy.
Neighboring statehouses in traditionally liberal California and conservative Utah have recently passed similar legislation.
While police departments struggle to recruit officers, AB 30 would expand the number of potential candidates in Nevada.
"There's a crisis right now going on nationally," said Jared Luke, North Las Vegas' director of government affairs and economic development. "It's not just a Nevada thing, it's not just a North Las Vegas thing, where recruiting numbers for police officers and police departments nationally have fallen."
Big recruitment pool
If the law passes, about 140,000 green card holders and between 12,000 to 15,000 Deferred Action for Childhood Arrivals recipients like Diaz would be eligible to join police forces in the state. The U.S. military, for example, already allows permanent residents to enlist.
"That's a major pool of potentially qualified candidates that want to serve in the community, where they live and who want a better community," Luke said. "But they're prohibited to do so even though legally they have the authority to work in the United States, so, that's really the genesis of AB 30."
Lifting the citizenship requirement wouldn't supersede the other strict restrictions, such as background checks and physical qualifications needed before beginning training in a police academy, Luke said.
"All we're doing is saying that we would like for the state to recognize that this is an additional pool from which to draw," he said.
[RELATED: NH poised to lift citizenship requirement for police applicants]
Precedent in education
Luke noted that eliminating citizenship requirements is not unprecedented in Nevada.
State lawmakers in 2015 did so to address the teacher shortage. And police departments in North Las Vegas and Las Vegas did so for their "explorer" programs, which allows teenagers to get a taste of what it's like to be in law enforcement.
"We're bringing kids in and young people into an explorer program, where there's no citizenship requirement, but then if they really fall in love with policing and then we tell them, 'you know what, you can't actually be a real police officer,'" Luke said.
An "immense amount of work" has gone into the proposed legislation, which includes a plethora of conversations with police departments, police unions, legislators and immigrant groups, Luke said.
They discussed "who was affected, who wouldn't be affected an what's the overall benefit to something like this, and really, what it boils down to is public safety," Luke said. "And on top of that, equal opportunity."
AB 30, sponsored by the Assembly Committee on Government Affairs, was first filed in November.
Police departments noncommittal
Metro said it's "aware" of AB 30, and that the department is reviewing the legislation.
"This bill is one of many the City of Henderson is reviewing prior to the start of the legislative session," a city spokesperson wrote in a statement. "Like other local law enforcement agencies, the City is open to discussing ways we can increase the pool of qualified police officer candidates."
A spokesperson for Lombardo did not address AB 30, but wrote, "We'll monitor all bills as they work through the legislative process and engage when we feel necessary."
Lombardo, a law enforcement veteran, has consistently advocated for the hiring of more officers.
Nevada State Police and the Las Vegas Police Protective Association, the rank-and-file union for Metro, did not respond to messages from the Review-Journal seeking comment.
Political limbo
For most permanent residents, becoming a U.S. citizen takes a few years. But DACA recipients, often referred to as "Dreamers," have been in political limbo since former President Barack Obama issued the designation through executive order in 2012. They have to renew their residency and work permits every two years and have no path to permanent resident status, much less citizenship.
"I would have loved the opportunity to become a police officer," said Diaz, who previously was a DACA recipient.
Growing up, that status brought the 24-year-old uncertainty and a lack security and a sense of belonging, he said. You're "living on the edge, and don't know what's going to happen tomorrow with legislators."
He added: "You don't really feel like you belong back in your country — in Mexico — and you feel like they don't want you here in the United States."
There were other limitations, too.
A student with good grades, Diaz was accepted into San Diego State University, but couldn't apply for financial aid. He eventually moved to Southern Nevada about three years ago. Not every employer hires DACA applicants, he said.
Diaz earned permanent residency around the time he was accepted into a nursing program in Las Vegas last year, which was a requirement. He graduates in 2024.
Diaz said he hopes the elimination of citizenship requirements are expanded nationally.
"I feel as Dreamers, we kind of embody the American dream," he said. "We're here to become better people for our community, and I just feel like this would open up a whole bunch of opportunities."
NEXT: Navigating the historic staffing and community crisis across law enforcement
©2023 Las Vegas Review-Journal.
Visit reviewjournal.com.
Distributed by Tribune Content Agency, LLC.
McClatchy-Tribune News Service