Officers trained to deal with mental illness in short supply
The National Alliance on Mental Illness estimates that 3,000 of the nation's 18,000 law enforcement agencies have mental health response teams like those in Sacramento and El Cajon
---
By Paul Elias and Don Thompson
Associated Press
SACRAMENTO, Calif. — Many police departments have specially trained officers and mental health professionals whose job is to help defuse the sometimes-volatile "5150" calls that involve people in the throes of mental illness.
But those officers are in short supply, and often they are unavailable in a crisis, as happened in Sacramento and the San Diego suburb of El Cajon, where police encountered men with mental problems and ended up shooting them to death.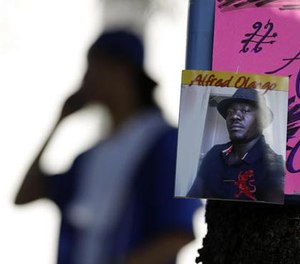 Both cities would like to add additional resources but neither has the money.
"Funding for mental health services has been cut, and we are responding to more of those types of calls," El Cajon police Lt. Rob Ransweiler said.
El Cajon, a city of 100,000, and Sacramento, the state capital with nearly half a million residents, each have a grand total of one mental health team that pairs a professional counselor and a specially trained officer.
"We can't really expect that they can cover 100 square miles of the city 24/7. It's been a very effective program, but it is limited by resources," Sacramento police spokesman Matthew McPhail said.
The National Alliance on Mental Illness, the nation's largest grassroots mental health advocacy organization, estimates that only 3,000 of the nation's 18,000 law enforcement agencies have mental health response teams like those in Sacramento and El Cajon. The alliance is calling on more departments to adopt so-called crisis intervention teams, often called CITs.
"Even in cities where a CIT is in place, you have no guarantees," said Ron Honberg, a researcher with the alliance known as NAMI. "But it's always better to have the advanced training than not having it."
In Sacramento, state grants pay for a specially trained officer and mental health professional who respond together to 5150 calls. But the pair is limited to working in areas deemed to have the greatest need for mental health services.
Even departments with multiple intervention teams still struggle to answer every call with trained officers and mental health workers.
When 5150 calls come in, the officers with specialized training are often already dealing with another situation or they are off-duty at departments that have no backup. That was the case last summer when a mentally ill man was waving a knife on a Sacramento street. And it happened again last week when a man in El Cajon was acting erratically and walking into traffic.
"A lot of crises don't happen between 9 and 5," Honberg said.
Beyond the formal teams, many departments including Sacramento's are training all officers in "de-escalation" techniques that stress giving an agitated suspect "time and distance" instead of aggressively rushing in for an immediate arrest.
San Francisco police spent six hours on Sept. 24 talking with a suicidal man who threatened to kill officers with an assault rifle. The daylong standoff shut down a train station, but the incident ended peacefully after crisis negotiators urged the man to surrender. The weapon turned out to be a pellet gun.
"As long as we have time to talk to this person, we have hope," San Francisco officer Carlos Manfredi said.
The Virginia-based Treatment Advocacy Center published a study last year showing that police are 16 percent more likely to shoot and kill mentally ill suspects than other suspects.
"It's one of the biggest nightmares for families of people with mental illness ... and for law enforcement, too," said John Snook, the center's executive director.
That nightmare played out in Sacramento last July when Joseph Mann, a mentally ill homeless man, was shot 14 times. His family has filed a federal civil rights lawsuit alleging that responding officers failed to seek assistance from mental health professionals or follow state guidelines for confronting mentally ill suspects by first attempting to diffuse the situation.
On Monday, the family called for two of the officers to be charged criminally after a recording captured by their dashboard camera revealed that the officers had discussed running down Mann with their vehicle before they shot him just seconds after getting out of their car. The officers' attorney says they protected the community from an armed and erratic suspect.
In El Cajon, a police officer opened fire on Alfred Olango within a minute of arriving on scene following multiple 911 calls by Olango's sister, who described her brother as mentally unbalanced. The officer fired when Olango took a "shooting stance" and aimed an object at him that turned out to be a 4-inch electronic cigarette device called a vape pen.
After racially charged fatal police shootings of unarmed suspects, the Washington D.C.-based Police Executive Research Forum has been training departments in "de-escalation" techniques, teaching officers to give agitated and disturbed suspects "time and distance" to calm down before moving in for the arrest.
In California, lawmakers recently passed legislation requiring increased officer training when it comes to interacting with disabled suspects, including those with mental illness.
Copyright 2016 The Associated Press. All rights reserved.