RISE Award nominee: How a Texas cop became a hero for sick kids
Officer Damon Cole travels far and wide to bring smiles to children and families coping with severe illness
---

Editor's Note: The TASER | Axon RISE Awards have officially commenced. In the third annual edition of the RISE Award Program, TASER | Axon and Police1 again honor officers and agencies who have risen above the rest. Officer Damon Cole is a shining example of what a Community Impact nominee truly should be. Stay tuned to find out who our winners are!
Officer Damon Cole will never forget the call: "We don't have that much longer. You probably want to come soon."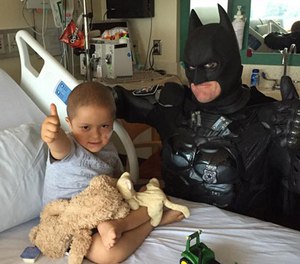 Matthew Quiroz was in the final moments of his life after a long battle with cancer. Midland, Texas, was a five-hour drive from Fort Worth. Cole canceled his plans and hopped in his custom Dodge Charger. As the sun faded and gave way to nightfall, a giant, backlit Superman logo on the grille of his car cut through the darkness.
It was midnight when Cole arrived at the hospital. Matthew, 10, loved Batman and needed a hero. After donning the cape and cowl made famous by the Dark Knight, Cole walked past the crowd of family members gathered in the hallway and entered Matthew's room. Overcome by his illness, the boy had been unable to move all week. When he saw Cole, his face lit up and he sat up in his bed. For the first time in a week, Matthew was moving.
Bridging the gap
A 17-year veteran officer, Cole recognizes the look of apprehension many people wear when they spot him out on patrol – particularly children.
"When I started work as a police officer, I noticed so many kids would be scared of us because parents would see us and say, 'Hey, if you don't behave I'll get that police officer to arrest you,'" Cole said. "Or when you don't have any interaction with the police at all and then all you see is negative stuff on the news, I can see how a young kid can easily get the opinion where they think 'Man, police are just bad.'"
Cole wanted to change that image. He started thinking about how he could have a positive impact on the children he saw every day on the beat and came up with an idea: a Superman logo sewn onto the front of his body armor.
"Whenever I'd interact with a kid on a call, I'd be like, 'Hey buddy, I'll tell you a secret, but you gotta promise me you won't tell anybody,'" Cole said.
After a pinkie promise with the child, Cole would unbutton his shirt and reveal the logo underneath. Most kids would ask him where his cape was. "Well, I can't wear it with my uniform," he'd reply. "It'll get wrinkles."
Always take the time to make a positive impact when you can. pic.twitter.com/yF0Sz9dfrL

— Officer Damon Cole (@HeroesandCops) July 14, 2016
A caped crusader for kids
This was the start of Cole's outreach to children across the nation. In 2015, after being inspired by a program in which he and fellow officers would dress up as superheroes and attend community events, Cole started visiting children suffering from cancer and other serious illnesses.
It began with a visit to a 7-year-old Illinois boy who had been diagnosed with stomach cancer. Then he met a 5-year-old Tennessee boy battling stage 4 lung and liver cancer. Soon, Cole was traveling far and wide at the request of families. He had so many Facebook messages asking for his services he could barely keep up.
While their favorite superheroes may differ, one thing remains the same: These children are all in need of a hero.
Cole has visited hundreds of kids in 11 states since he began his mission two years ago. He has eight professional-quality costumes – Spider-Man, Optimus Prime, Iron Man, Batman, Superman, Baymax, Bumble Bee and Captain America – with an Incredible Hulk on the way. A single outfit can cost nearly $5,000.
His Dodge Charger, which he uses on all of his trips, features custom Superman lights and graphics – the most notable of which shows Superman punching through the word "cancer."
He pays for all of this out of his own pocket, working off-duty jobs to cover the expenses. He travels on his comp and vacation days when he's not working full-time as an officer with the Fort Worth Police Department or spending time with his young daughter.
"I want someone to look at me and say, 'Because of you I didn't give up,'" Cole said. "What I tell these kids when I go see them is that they're the real superhero, not me. I tell them they need to keep fighting for me. I tell them that they're my hero."
See my BFF Paul's smile, that is why I do what I do! pic.twitter.com/FKEeaftN9L

— Officer Damon Cole (@HeroesandCops) May 7, 2016
The nature of the visit is determined by the child's family. Cole has had one-on-one stops just as often as he's cheered up entire floors of children's hospitals. Sometimes – as when he visited 4-year-old "Mighty" Max Brown – the entire community comes out for a meet-and-greet.
'Mighty' Max
Max's mother, Emily Brown, caught wind of Officer Cole shortly after her 4-year-old son was diagnosed with acute lymphoblastic leukemia. She decided to invite the entire community to Cole's visit in the small town of Galax, Virginia, as a thank-you for all they had done to support her family.
More than 2,000 people showed up at the local fire department for the event. Cole changed into different superhero outfits every hour on that hot June day.
"He sat out in the sun with every single one of those kids. He never complained," Brown said. "When he was here, Max felt super special. When Max is in the hospital, he has to stay in his bed, tied to the IV pole. This gave him something for two days to look forward to. He's a big superhero fanatic, and he has worn his cape around a lot more [since Cole visited]."
Another reason Brown, who comes from a law enforcement family, invited the entire community to participate in Cole's visit was to try to erase the fear some children have around police officers. Cole's Fort Worth PD patch is prominently displayed on all of his superhero costumes.
"The kids see that he's a superhero, but he's a policeman, too. Cops should be somebody kids look up to," Brown said.
Cole's visits aren't just a one-off. He forms close ties with the families he visits and regularly follows up with them. Each child receives a card that details Cole's mission and provides his contact information. They're encouraged to text, call or message him online at any time, any day – whether they're feeling down and need words of encouragement or are just curious about how Cole's days on patrol are going.
"He doesn't want any publicity. He doesn't ask for money. He just loves the kids. When we speak, he's asking about Max," Brown said. "He's doing it just to make a difference."
Heroes have arrived @GalaxFireDept! Open 12-4 today! @heroesandcops @wdbj @EamonOMearaTV All welcome! See you there! pic.twitter.com/CZZsm8i0Fg

— Galax Fire Dept. (@GalaxFireDept) June 24, 2016
'It takes its toll'
Cole is also there in times of unspeakable tragedy. While on patrol, he received a call from dispatch about a missing 5-year-old named Joshua Garcia. When he arrived at the scene, Cole was greeted by the boy's mother, soaking wet and standing in the driveway of the house. She told Cole she believed her child might be in the pool at the back of the home.
Cole rushed to the backyard. The pool was filled with debris, and the water was pitch-black. As Cole pulled trash out of the water, his worst fear was realized. He found Joshua's body. The boy was wearing Spider-Man shoes and a matching T-shirt.
A few days later, Joshua's family messaged Cole. They were familiar with his work and requested that he attend the boy's funeral dressed as Spider-Man. Cole bought a matching costume for Joshua to wear as he was laid to rest.
Given the nature of Cole's work, that wasn't the only funeral he's attended in character. He says that it can be a struggle, but focusing on the positive makes it easier to bear.
"It takes its toll on you. People ask me how the hell I do it. But if that helps bring a family peace and it helps honor their child, then I'll do it," Cole said. "It's just like police work – you deal with all this negative stuff all day, every day. All that stuff can take a toll on you, so I think about the positive, I don't think about the negative. "
Not all heroes wear capes
As much as his work has evolved since he first got that Superman logo stitched into his vest, Cole stresses that despite the superhero costumes, he's still a police officer first, and it's important to him that the children he visits know that.
He's the hero we need & the one we deserve right now. Batman (@HeroesandCops) is visiting kids at @EastTNChildrens pic.twitter.com/B5GmFJbvln

— Children's Hospital (@EastTNChildrens) June 22, 2016
"While in the process of doing what I do for kids, I also want to break down those stereotypes and those walls," he said. "People forget that police officers are no different than anybody else."
Cole is using the visibility of his uniform – and his costumes – to draw positive attention and build relationships between kids and cops all over the country. He plans to eventually visit all 50 states and Canada in his continued quest. And he hopes he can soon replace his aging Superman Charger with a brand-new Batmobile.
"As a police officer, people are always staring at you. And kids are definitely staring at you because they're either scared of you or they're fascinated by you. All you have to do is say 'What's up?' and give them a high-five. You'd be surprised something so simple can make a big impact on a kid's life," Cole said. "Anybody can make a difference – you just have to do it."
Officer Damon Cole's tireless mission to serve as a hero to those who need it most is why we're proud to name him as a nominee for the TASER | Axon and Police1 RISE Community Impact Award. To learn more about Cole, visit Heroes and Cops Against Childhood Cancer.