Roy Drago: A modern sheriff straight out of the 'Old West'
At 85 years old, Deputy Roy Drago is one of the oldest working law enforcement officers in America
---
Sometimes people look like exactly what they are. Roy Drago looks like a sheriff out of the old west, maybe because he was one. Roy Drago is Deputy Drago once again, now working part-time for the Umatilla County Sheriffs Office. He works mainly at the county courthouse in Pendleton. At 85 years old, Deputy Roy Drago is one of the oldest working law enforcement officers in America.
Saying he worked in the "old west" is a little misleading, as Roy has been in law enforcement since 1971. It's more to do with where Roy spent most of his career, working in Eastern Oregon. 
For most people, Oregon summons mental images of lush woodlands, Portlandia, and lots of rain. Western Oregon, where 85 percent of the state's population lives, is like that. East of the Cascade Mountains, the geography is more like the desert, with some open farmland here and there. Sheriffs' offices have thousands of square miles to patrol, often with only a sheriff and a deputy or three.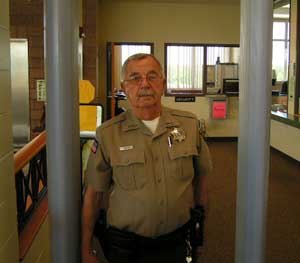 A Long History of Public Service
Roy was drafted into the Army during the Korean War, while he was working for the Oregon Highway Department. On his discharge from the service, he returned to his home town of Yonkers, NY, and worked for the department there as a special patrolman, assigned to animal control. Within a few years, he again heard the call of the west, and moved to Eastside, Ore., where he worked for a fish hatchery and for Safeway stores. 
In 1971, he became a reserve officer for the Eastside PD, and was appointed as a regular officer in 1972. When Eastside PD merged with the Coos Bay PD in 1980, he became a deputy at the Morrow County Sheriff's Office (MCSO). 
Police training had just moved from "on the job" to a formal six-week academy course at Western Oregon University in Monmouth (it moved to its own facility in Salem in 2004). The cadets were unpopular on the liberal arts campus. 
"There were several protests and fights between trainees and students," Drago told Police1. 
Improving an Ineffective Agency
Morrow County is spread over 2,049 square miles, and at the time only about 7,500 people lived there. The sheriff's office was composed of the sheriff, three deputies, and one car. 
"Nobody called the sheriff's department," Drago said. 
Owing to low staffing, lack of transportation, and apathy, deputies seldom responded to calls. When the incumbent sheriff left office in mid-term, Roy was appointed sheriff by the county commission in 1983. He was elected to the post in 1985, and four more times in subsequent elections, each time running unopposed. He retired in 2000 and was replaced by his undersheriff. 
Upon becoming sheriff, Roy immediately grasped the reasons the sheriff's office was ineffective. Roy quickly mandated that every call would be answered in person by a deputy, and held weekly deputies' meetings to discuss problems of the day and reinforce that people were to be treated with respect, good guy or bad. 
A good relationship with the county commissioners allowed him to get funding to grow the sheriff's department and its inventory of equipment. He eventually had 17 deputies working for him, each with an assigned take-home car. Today, the MSCO cars are driven for about three years, and are then reassigned to other county services. 
MCSO provides law enforcement services to almost the entire county. Several of the towns have had police departments or city marshals over the years, but presently the only other law enforcement agency in Morrow County is the Boardman Police Department, with a chief and eight officers. Deputies from Morrow and neighboring Grant County used to drive 100 miles each way to meet in Lone Rock to exchange information. 
Sheriff Drago Out on Patrol 
Burglaries and other thefts were the primary complaints in Morrow around that time, but there were four or five murder cases and two bank robberies during Drago's stint as Sheriff.
Sheriff Drago was not station-bound. He responded to calls and made some landmark arrests. In one of the murder cases, he apprehended the suspect as he tried to leave the crime scene, carrying a rifle. 
Every law enforcement agency has its "frequent flyers" -- people who seem to get arrested on a semi-regular basis --  but Morrow County's frequent flyer of the time made a real name for himself. John Krebs robbed the Ione (population about 300, at the time) branch of the Bank of Eastern Oregon in 1983. He was more than familiar with the bank. His grandfather founded it. Krebs was convicted and sent to the Oregon State Penitentiary, but he and another inmate escaped in 1985. 
Krebs went back to what he knew best. He and his accomplice robbed the same bank, almost two years to the day after his first robbery. Several witnesses outside the bank saw them struggling with their masks, waving their guns around inside, and driving away. 
They ditched the first getaway car and took another, when Sheriff Drago spotted them and gave chase. They stopped for a moment to yell "F--- you, Drago!" out the window, and tried to back the car over the sheriff. Sheriff Drago fired one shot, and the car took off again. Shortly afterward, an Oregon State Police trooper managed to block their path, and the robbers, along with two women and a baby in the car, were taken into custody. 
Krebs got 30 years in prison, but managed to escape again) from the sheriff's car that was taking him to prison. He was recaptured and eventually served his term. 
Morrow County doesn't run its own jail; instead, they house their prisoners with the neighboring Umatilla County Sheriff's Office in Pendleton. When the aforementioned John Krebs was in custody awaiting trial, the sheriff in Umatilla County refused to house him in the jail, saying he was "too mean." 
Drago got the Benton County (Wash.) sheriff to take him, which prompted Krebs to sue Drago and his department for $2 million. Krebs complained he was unlawfully transported across a state line. The lawsuit was dismissed when an old law was discovered, one that allowed prisoners to be transferred between certain Ore. and Wash. counties without having to institute extradition proceedings. 
---
References
Morrow County: A History of Oregon Sheriffs