Albuquerque police investigating 3 'senseless' shootings that leave 6 dead
The APD has also called in additional resources "due to the complexity of the scenes," according to Albuquerque Deputy Chief Harold Medina
---
By Celia Raney, Matthew Reisen and Martin Salazar
Albuquerque Journal
ALBUQUERQUE, N.M. — At least six people were killed and five others wounded in multiple shootings as violence erupted throughout Albuquerque on Thursday night.
"There were three shootings that we know of, two major scenes where we had individuals deceased and there is another shooting (but) … that individual is not expected to have any life threatening injuries," Albuquerque Deputy Chief Harold Medina told reporters during a 1 a.m. Friday news conference.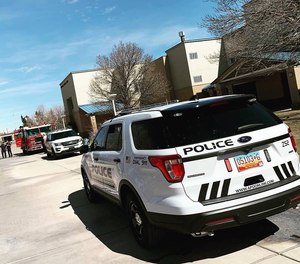 "We don't know if any of them are connected at this point," Medina said.
The shootings occurred during a roughly 90 minute period. Just before 7:30 p.m. one male was shot in the neck at a Northeast apartment complex; he survived the injury. At about 8:45 p.m., four people were shot at another apartment complex in the Northwest. They were transported to a local hospital where two of them died. The third shooting took place at a mobile home park near Bridge and Goff in Southwest Albuquerque and was reported shortly after 9 p.m. Four people were killed and two others wounded at that location.
The Albuquerque Police Department had no information about suspects.
Medina called the shootings "senseless acts" and urged anyone with information on the incidents or information they believe could help police find the individuals responsible to call 242-COPS.
Lura Place shooting
Dozens of people gathered outside the mobile home park in the 1000 block of Lura Place SW, some of them crying and hugging, others talking furiously in hushed voices. A few were visibly agitated and yelled at officers.
Near the east entrance, the headlights of the mobile crime lab illuminated a body lying in the middle of the street beneath a sheet. Throughout the night, friends and family members of the six people shot continued to arrive at the scene searching for information.
Police vehicles blocked the two entrances into the mobile home park as numerous officers stood guard or worked the crime scene. Several of those officers formed a line near the crime scene tape.
A number of residents of the mobile home park also waited behind police tape.
One woman, who declined to give her name, told the Journal she has lived there her whole life. She said her younger son called her as she was on her way home and told her there was a fight and gunshots at their neighbor's house.
She said the shooting occurred two mobile homes down from her home. The victims, she said, were members of the same family — and one of their girlfriends. She said the people killed included two cousins and their grandmother. Another family member and the girlfriend of one of the individuals killed were also shot, she said.
APD had not confirmed those details.
"We all grew up together," she said through tears. "We're all family friends."
She said her son told her that after the gunshots at least two vehicles drove off.
APD had initially reported that three were killed at that location but later said four died.
"When that first information comes out it is always preliminary information just like the information we're giving now, and sometimes that information isn't fully vetted and the information coming out now that we have a little more solid is four individuals are deceased at this scene and two more are injured," Medina said.
Ladera shooting
The Northwest shooting occurred at the Rio Volcan Apartments near Ladera and Unser.
Two of the victims in that shooting were transported to a hospital, where they died. The two others were also transported to local hospitals.
One of the victims drove to the Walmart at Coors and Ouray — about 2 miles away. That's where police made initial contact with the individual.
Neighbors told the Journal they heard at least four gunshots, which they thought were fireworks, before police swarmed the apartment complex parking lot.
Officers had taped off most of the parking lot and were walking through the scene with flashlights. Three officers could be seen walking around a cardboard box and a rock, which they were using as makeshift evidence markers.
Additional resources
Medina noted that detectives would be investigating the two major scenes throughout the night. APD has also called in additional resources "due to the complexity of the scenes," he said.
The initial shooting occurred at the Casa Bonita apartment complex at Carlisle and Montgomery in Northeast Albuquerque. The victim was transported to a hospital and was listed in stable condition, police said.
"The victim observed a man and woman break into a neighbor's apartment and steal a purse by force," APD spokesman Gilbert Gallegos said in a news release. "The victim attempted to intervene and was shot in the neck by a male offender."
©2019 the Albuquerque Journal (Albuquerque, N.M.)
McClatchy-Tribune News Service