SHOT Show 2016: Shooting the Stainless Steel Range Officer from Springfield Armory
The newest release from Springfield Armory is the 9mm 1911 Range Officer in an alluring forged stainless steel, as well as a model with an under-barrel Picatinny rail
---
At SHOT Show two years ago, we encountered the Range Officer 1911 in 9mm from Springfield Armory and deemed it to be a very desirable handgun for someone who tends to fight with the same design chambered in .45 ACP.
This year at the Boulder City Rifle and Pistol Club, we found the newest release from the good folks in Geneseo (Ill.) is the same gun in an alluring forged stainless steel, as well as a model with an under-barrel Picatinny rail on which you can mount your light of choice.
In the latter offering, the addition of the rail increases the appeal of the Range Officer for duty carry (for those officers who have the latitude to make their own selection), but it was the former that really captured my attention. This gun in forged stainless steel is, in a word, gorgeous.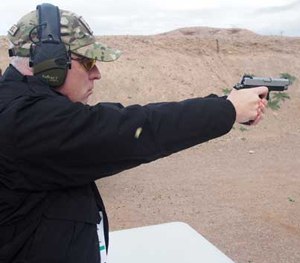 All the same positives are true of this release as were the case when I first tested the 9mm RO back in 2014. Weighing in at a hefty (but comforting) 41 ounces (with empty mags), the gun sits perfectly in the hand, and is extremely well balanced.
When pushing rounds through the five-inch stainless steel barrel, the felt recoil is almost negligible, so target acquisition for follow-up shots is very fast. In the accompanying picture, you can see the blur of the falling brass just at my elbow, and the fiber optic front sight is already back on target. Yeah, that fast.
The stainless steel design — in combination with the "Cross Cannon Double Diamond Cocobolo" wood grips — make the gun appear more at home in a shadow-box display case on the wall than in a safe in the closet, but I'll make room in my safe for this great new gun just the same.