The Up-Beat: Cop rescues dog, PD gives boy birthday parade & other good police news
Here's our latest roundup of stories about cops doing good across the nation
---
By PoliceOne Staff
From small gestures of kindness to incredible acts of heroism, police officers help their communities every day. The Up-Beat aims to bring greater attention to these positive stories at a time when we could all use some good news.
Check out our latest round-up of inspiring stories from around the country. Got an uplifting story to share? Email editor@policeone.com.
1. Video: Mich. cop saves 3-week-old baby from choking
Officer Cameron Maciejewski's life-saving actions and coolness under pressure saved the life of an infant who had stopped breathing.
"Not only did the officer save the baby, but the officer did an outstanding job consoling the family. Once again, the Sterling Heights Police Department strives to provide the best service to our citizens, especially when it matters most," his department said. FULL STORY
2. Video: NJ cop in kayak rescues dog trapped in pond
Today our officers were called for a k9 in distress. Akela, a gray boxer/mastiff had gotten loose and found herself stuck neck deep in some mucky water in a local pond. Officer John Kuligowski found a nearby kayak and with the help of Chief Thomas Cicerelle and Officer Dallas Overko, they were able to rescue Akela and bring her safely to shore. Akela was in high spirits after her ordeal and even posed for a few quick pictures before being turned over to Animal Control Solutions. Akela's owners have still not been located. She was rescued in the area of Brass Castle Rd and Jonestown Rd. If anyone knows who Akela belongs to please have them contact Animal Control Solutions @ 908-722-1271 or Washington Township Police.

Posted by Washington Township Police Department on Wednesday, 8 July 2020
Officer John Kuligowski used a kayak to help a boxer-mastiff mix named Akela to shore. The pup was a-OK. FULL STORY
3. Texas PD gives 10-year-old birthday parade amid COVID pandemic
Presley Rivera couldn't see her friends or have a party for her birthday because of the COVID-19 pandemic, so a local police department went the extra mile to make her special day one to remember. FULL STORY
4. Calif. cop publishes children's book about firefighting dragon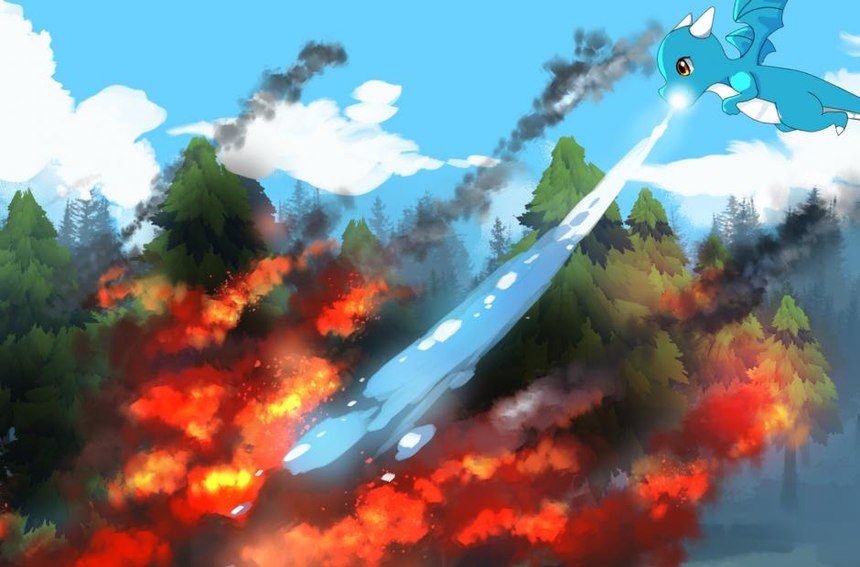 California Highway Patrol officer David Adams used some of his spare time for his passion project: a children's book about a water-breathing dragon that puts out fires. FULL STORY
5. Utah deputy honored for saving 2 people "running for their lives" from wildfire
Deputy John Thomas saved two people "running for their lives" after their truck became stuck off-road. The humble LEO had this to say as he received an award for his actions from his department:
"I don't feel like my actions were any different than anybody else's actions but I do really appreciate it and it does mean a lot to me." FULL STORY
Police1 is always looking for more stories about cops doing good in their communities. If you have positive news you'd like us to highlight, please share it with us at editor@policeone.com.