The Up-Beat: Top police heroes of May
Our monthly roundup of cops doing good across the nation
---
By Police1 Staff
From small gestures of kindness to incredible acts of heroism, police officers help their communities every day. Our monthly news roundup, The Up-Beat, aims to bring greater attention to these inspiring stories.
This month, we're highlighting an officer who ended a shooting spree, dramatic rescues and more stories of cops lending a hand. Do you have an uplifting story to share? Email editor@police1.com or submit a story using the link below.
HERO OF THE MONTH: Police Agent Ashley Ferris
Police Agent Ashley Ferris spoke publicly for the first time about how she ended a deadly shooting spree in the Denver area. Ferris, who was shot during the gunfight, says she "didn't want to let the gunman win." He didn't. FULL STORY
2. N.Y. trooper honored after crawling through burning house to rescue teen
Trooper Robert Stawicki and a deputy dragged the 13-year-old out of the house as melting shingles dripped on them. FULL STORY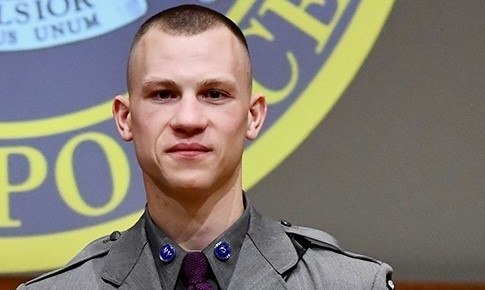 3. Video: NYPD cops save blind man who fell onto subway tracks 'in the nick of time'
A pair of quick-thinking cops saved a blind man who fell onto a set of Brooklyn subway tracks just as a train pulled into the station. FULL STORY
4. 'A matter of seconds': SWAT officers pull driver from car before it 'burned to the ground'
Three Houston SWAT officers were praised for their heroics this month after rescuing a man from a fiery car crash. FULL STORY
5. La. wildlife agent pulls girl, 7, out from under capsized boat and performs CPR
Sgt. Stephen Rhodes wasn't even supposed to be at Grand Isle Beach the evening he rescued a near-drowned 7-year-old girl as her frantic family watched. FULL STORY
A hero's hero
Sometimes cops need a helping hand, too.
In this story, a good Samaritan recounts how multiple passersby helped staunch the bleeding and detain a suspect after a trooper was shot along a highway. FULL STORY
Whether it's your own story, a colleague's, a neighboring PD's, or simply something you saw on the internet, submit your good police news to us HERE for a chance to be featured in The Up-Beat.