2 men sentenced to 7 years in prison for assault on Minn. trooper
The pair pleaded guilty to first-degree assault of Trooper Doug Rauenhorst in December 2018
---
By Sarah Stultz
Albert Lea Tribune, Minn.
FARIBAULT COUNTY, Minn — Two men were sentenced Tuesday in Faribault County District Court to seven years in prison for assaulting a Minnesota State Patrol trooper on Interstate 90 during a high-speed chase in 2018 that started east of Blue Earth and ended in Albert Lea.
Montrell Smith and Anthony Enriquez pleaded guilty to first-degree assault of Trooper Doug Rauenhorst on Dec. 18, 2018. The trooper had pulled over the vehicle the men were riding in on Interstate 90 west of Minnesota Highway 254.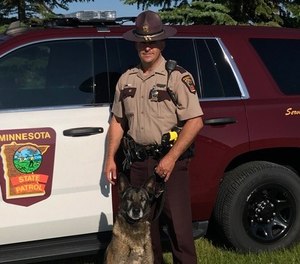 The assault occurred after the co-defendants fled the traffic stop with Rauenhorst partially in the vehicle. He sustained serious injuries after being forced out of the vehicle that was traveling at highway speeds.
Law enforcement agencies pursued the vehicle into Freeborn County, and during the chase, court documents state Smith and Enriquez threw approximately 15.96 pounds of marijuana bricks out the window. Law enforcement suspended the chase after the Jeep exited the interstate into Albert Lea due to safety concerns. The vehicle was later found unoccupied in the parking lot behind Brick Furniture, and Smith and Enriquez were arrested without incident at Sportsman's Tavern.
The men admitted to assaulting Rauenhorst during plea hearings in January, along with pleading guilty to a charge of marijuana possession. Charges of fleeing a peace officer, third-degree assault, second-degree assault and fifth-degree drug possession were dismissed.
District Court Judge Darci Bentz sentenced Smith to seven years for the assault charge and 12 months and one day for a fifth-degree marijuana possession, and Enriquez to seven years and two months for his assault charge and 13 months for a fifth-degree marijuana sales charge. Both will serve their sentences concurrently in the state correctional facility in St. Cloud.
Rauenhorst, in his victim impact statement, described to the court how his life has been impacted since the incident in 2018.
"My recollection of the events immediately after are incomplete, as I did not think I ever lost consciousness. However, after reviewing the video, it is clear that I did, as I was face down in the median, unconscious before others arrived to help. I could not stand up, and I felt blood running down my head.
"When I arrived home, my family and I began to notice my effects the assault had on me. I had difficulty remembering conversations I had and if I had done daily activities. … During my treatment at the Mayo Brain Unit in Rochester, the staff helped me realize how significantly the injury had affected my brain. I was a lot slower at reading and comprehending the information I read. I forgot entire conversations.
"I went back to work in full capacity in June of 2019. Immediately, I began to realize I could not remember things I did at work and had difficulty sleeping at night. I was taken off work again.
On June 8, 2020, I was cleared to return to work for the first time since June of 2019 … I hope this will go well.
The assault was life-altering for me. I will have to deal with repercussions from it for the rest of my life. It has affected my ability to advance in my career, and it has affected me and my family in so many ways. It makes me very sad that my children had to see me go through this, as it has changed the way they view the world."
Freeborn County Attorney Kathryn Karjala in a press release thanked the law enforcement agencies who responded to assist with the pursuit from Faribault County to Freeborn County and the arrest of the men at the Sportsmen's Tavern in Albert Lea. She also thanked the Minnesota Bureau of Criminal Apprehension for its investigation and for hours of gathering evidence to ensure the defendants were held accountable.
©2020 the Albert Lea Tribune (Albert Lea, Minn.)
McClatchy-Tribune News Service