Preparing for a virtual counseling session
Some counselors offer virtual appointments over applications similar to Zoom – here's how to prepare to talk online
---
As a law enforcement officer, you've heard a lot of talk about the importance of taking care of your physical and mental well-being. You've read articles and listened to podcasts about the value of sleep, nutrition, hydration and exercise, and how to build strong relationships and sound finances. Maybe you even took significant steps to improve in these areas.
Now you are thinking about taking it to another level – being as proactive about your mental health as you are about maintaining your physical health. You decide to schedule an annual physical with both your primary care physician and mental health professional.
As you look at your options, you see that counselors have started offering virtual appointments over applications similar to Zoom. With your busy work schedule, you realize that this may be an option.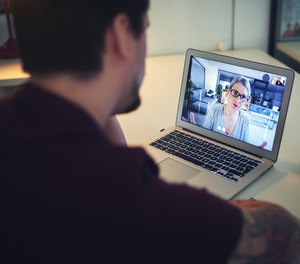 If this scenario describes you, as a fellow LEO, I think you are making a great decision. Committing to self-care – whether physical or mental – takes courage, determination and persistence.
If you are considering trying out a counselor through a telemedicine/virtual platform, here are five recommendations to increase the likelihood of a great counseling experience.
1. Consider addressing any biological injuries before getting counseling
Many of us in policing have been exposed to multiple traumatic events during the course of our careers. Trauma exposure can cause changes in our biology. Even people who do not have a diagnosis of PTSD can have a chronically overactive fight or flight system. Specific signs of this might include frequent bursts of anger, a feeling of being suddenly flooded with anxiety, difficulties concentrating and disrupted sleep.
There are innovative procedures that address trauma as a biological injury, using a biological approach. One example is Stellate Ganglion Block, which was recently featured in a Fraternal Order of Police magazine article. Addressing the biological component of trauma can help enhance the entire experience and outcome you will get from talk therapy.
2. Do your homework
Not all counselors are equally skilled, or an equally good fit for every person they serve. Counselors have a variety of degrees and specialties. You want to find a counselor who specializes in the areas that fit your life.
Prior to picking a counselor, do some research. Check out their website, read internet reviews from prior patients and search social media platforms. Their favorite sports teams are probably negotiable, but if they have a loud, forward-facing social media account that you do not agree with, you may want to find someone else.
Also, check with local police organizations like the Fraternal Order of Police (FOP) to see if they have any lists of counselors who specialize in serving first responders and the military.  
3. Pick the optimal location
The next step to improving your counselor experience is to find the right location. Find a place in your home that is quiet. Schedule a time where you will not have other responsibilities, like keeping an eye on the kids or cooking a meal. A quality counseling appointment requires your full attention.
Situate your computer or phone so that the primary light source is behind the camera and in front of your face to prevent the video from getting covered by shadows. Better lighting allows you and the counselor to see each other and have better communication – especially since experts say that the most important part of our conversations is non-verbal communication.
4. Check your technology
Before you go live, make sure your technology will support a virtual counseling session. COVID school quarantines caused my family to invest in the right internet connection and a quality router. These two improvements ensured my kids made all of their virtual school sessions without interruption. This is also going to be important for your virtual counseling session. Slow internet or unexpected interruptions can hinder developing a great relationship between counselor and LEO. 
5. Prepare to be honest
Counselors do not have the luxury of x-ray machines and blood tests to aid in helping us. Even the most skilled therapists do not have "psychological x-ray vision." They depend on their patients being open and honest with their thoughts and feelings to diagnose and treat.
LEOs need to enter into this professional relationship ready to be transparent about what is happening in their lives. A good therapist will not judge or shame their patients no matter what is shared. Your counselor has probably already heard what you are about to tell them from countless other patients. You think you are alone, and your struggles are unique. They are not. Our human minds and bodies have a way of processing trauma and loss. A lot of LEOs have similar experiences.
Come ready to share everything at a pace that allows you to feel safe, and build trust with your provider. It will speed up the process of processing stress and feeling normal again.  
Follow-through
Counseling does not end at the completion of the session. Your counselor will likely give you homework to complete between appointments. This might include journaling, drawing, going for walks, changing your diet, drinking more water, or talking with friends and family. It is the work outside of the counseling sessions that is going to really improve our physical and mental health. We need to come ready to do the work. If we ignore the work, our situations will stay the same. If we risk trusting our counselor and submitting to their care, we have the potential of living a fuller life. And it is that improved life that led us to sign up for counseling sessions in the first place. Blessings, LEO sisters and brothers!
Officer wellness action items from Police1
Listen to the following Policing Matters podcast for tips on how to focus on your health: