Fla. deputy didn't follow extensive training during Parkland school massacre, supervisor testifies
Lt. Col. Sam Samaroo said Deputy Scot Peterson was taught that even if he was alone, he would need to confront the shooter without waiting for backup
---
By Terry Spencer
Associated Press
FORT LAUDERDALE, Fla. — A former Florida sheriff's deputy didn't follow his extensive training on how to stop an active shooter when he didn't confront the killer who murdered 17 people at a Parkland high school, a former training commander testified Thursday.
Former Broward County Deputy Scot Peterson had undergone training both in a video simulator and with live actors several times before the Feb. 14, 2018, massacre at Marjory Stoneman Douglas High School, Broward County Lt. Col. Sam Samaroo testified. He said Peterson was taught that even if he was alone, he would need to confront the shooter without waiting for backup.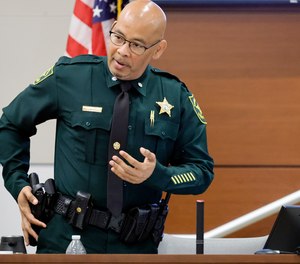 Samaroo worked at the agency's training unit from 2013 to 2018, and was ultimately made its commander. He said deputies are taught that active shooters, if confronted, will kill or barricade themselves, surrender, or engage authorities in a gunfight, giving civilians time to flee or take shelter. That's why deputies must go toward the gunshots immediately and "force an outcome," he said.
"The more time the shooter has, the more victims he can kill," Samaroo added. "Our goal is to stop the killing by any possible means. Time is our enemy."
Peterson, the school's on-campus deputy, insists he did not know where the shots were coming from because of echoes, which is why he didn't enter the three-story classroom building where former student Nikolas Cruz carried out his six-minute attack. Peterson, after approaching the building's doors about a minute after the shooting began, backed away and took cover next to a neighboring building. He stayed in place for 40 minutes, long after the shooting stopped.
Samaroo said not knowing the shooter's precise location was no excuse for Peterson to remain stationary; he said the deputy would have picked up clues to the shooter's location if he had moved.
"You go into hunting mode," Samaroo said. "The smell (of gunpowder). You will see (bullet) casings, trails of blood. You might see people fleeing in a particular direction. Those are all things that play into our senses."
Under cross-examination by Peterson's attorney, Samaroo conceded that in training scenarios, the deputies know in which building the fake shooter is located and they are never confronted with multiple possibilities or any outside echoes. He also agreed that the sheriff's office's written policy in 2018 said deputies "may" enter a building during an active shooting. That policy has since been changed to "shall."
What Peterson, 60, heard and saw during the shooting is the key issue in the trial. He is charged with child neglect for failing to confront Cruz before the gunman reached the classroom building's third floor, where six of the victims died.
Peterson is not charged in connection with the deaths of 11 people killed on the first floor before he reached the building.
If Peterson is convicted of the most serious charge of felony child neglect, he could be sentenced to nearly 100 years in prison and lose his $104,000 annual pension. He had spent nearly three decades working at schools, including nine years at Stoneman Douglas. He retired shortly after the shooting and was then fired retroactively.
Prosecutors have spent the trial's first week calling to the witness stand students, teachers and law enforcement officers who have testified about the horror they experienced and how they knew where Cruz was.
Testifying Thursday for the defense, Deputy Michael Kratz said when he arrived at the school about two minutes after the gunfire began, he thought the shots were coming from the football field next to where he had parked — about 100 yards (90 meters) from the actual building. He grabbed his rifle and took cover behind his car, scanning for the shooter as the shots kept coming.
"It was loud. It sounded like 30 or 40 feet (10 to 12 meters) away," Kratz said. He added that he couldn't see the shooter but thought the shooter could see him.
One of Peterson's defenses is that the sheriff's radio system crashed during the shooting because it was overloaded, limiting his knowledge of what arriving deputies saw. Retired Lt. Michael DeVita, who then oversaw the Parkland district, testified that he wrote several memos before the shooting complaining about radio coverage near the school, but the problem was never fixed.
For Peterson to be convicted of child neglect, prosecutors must first show he was legally a caregiver to the juvenile students, defined by Florida law as "a parent, adult household member or other person responsible for a child's welfare."
If jurors find Peterson was a caregiver, they must determine whether he made a "reasonable effort" to protect the children or failed to provide necessary care.
Peterson is the first U.S. law enforcement officer ever charged for an alleged failure to act during a school shooting. Similarly, Texas authorities are investigating officers in the town of Uvalde who didn't confront the shooter who killed 19 elementary students and two teachers last year. None have been charged, however.
Cruz, 24, pleaded guilty and last year received a life sentence, avoiding a death sentence when his jury could not unanimously agree he deserved execution.