Witnesses to Parkland massacre describe their confusion in pinpointing gunshots' location
Scot Peterson is the first law enforcement agent in U.S. history ever tried for an alleged failure to act during a school shooting
---
By Terry Spencer
Associated Press
FORT LAUDERDALE, Fla. — The courtroom battle over whether the sound of gunshots during the Parkland school massacre should have directed a Florida sheriff's deputy to the attacker's location ramped up Thursday as defense testimony showed others also thought the thunderous blasts were coming from elsewhere.
A sheriff's deputy, teachers and students, testifying during the trial of former Broward County Deputy Scot Peterson, gave divergent answers when asked where they thought the shots were coming from during Nikolas Cruz's Feb. 14, 2018, attack at Marjory Stoneman Douglas High School. Fourteen students and three staff members died.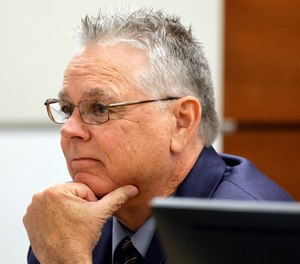 Peterson, the school's assigned deputy, insists that because of echoes he didn't know that Cruz was firing inside the three-story 1200 building, even though he moved within 10 yards (9 meters) of its door before taking cover next to an adjoining structure. He has said he thought the shots were coming from outside, perhaps from the football field — more than 100 yards (90 meters) from the 1200 building and 200 yards (180 meters) from where he took cover. He is facing felony child neglect and other charges for his alleged failure to confront Cruz.
Sheriff's Sgt. Brian Goolsby, who arrived during the shooting, said he thought the gunfire was coming from a courtyard next to the 1200 building. He said that even when he arrived outside the building and saw the body of a coach outside a door and its damaged windows, he wasn't totally convinced the shots had come from inside — perhaps the shots had struck the coach and windows from a nearby balcony or trees.
"I have never experienced anything quite like that day," Goolsby said.
Student Ruby Harris, who had exited a neighboring building, thought the shots from Cruz's AR-15-style semiautomatic rifle were coming from straight ahead from a parking lot behind the 1200 building. Her younger sister Peri thought they were coming from the left, from a neighboring middle school. Their friend Dylan Redshaw thought that a building somewhere had exploded.
"It was the loudest sound I have ever heard and hope I ever hear in my life," she said. "I thought it was coming from everywhere around me. It sounded like it was under me, above me, all around me."
Under cross-examination, prosecutors pointed out that the students and teachers were not police officers trained to recognize gunfire or pinpoint it and that their training for on-campus shootings was to run back into their classrooms immediately, not to seek out and find the shooter.
Prosecutors pointed out that even though Goolsby didn't precisely know where the shots were coming from, he kept moving toward the sounds, looking in one building's windows to see if the shots were coming from there — something they have pointed out Peterson could have done at the 1200 building to find Cruz.
Peterson, 60, could face almost 100 years in prison and lose his $104,000 annual pension if convicted of felony child neglect, the most serious charges he faces. He is the first law enforcement agent in U.S. history ever tried for an alleged failure to act during a school shooting. He retired shortly after the shooting before being retroactively fired.
Peterson is charged in connection with failing to confront Cruz before he reached the third floor, where six of the victims died. He is not charged in connection with the 11 people fatally shot on the first floor before he reached the building.
Prosecutors concluded their two-week presentation Wednesday. They called to the witness stand students, teachers and law enforcement officers who have testified about the horror they experienced and how they knew where Cruz was. Some said they knew for certain that the shots were coming from the 1200 building. Prosecutors also called a training supervisor who testified that Peterson did not follow protocols for confronting an active shooter.
For Peterson to be convicted of child neglect, prosecutors must first show he was legally a caregiver to the juvenile students, defined by Florida law as "a parent, adult household member or other person responsible for a child's welfare."
If jurors find Peterson was a caregiver, they must determine whether he made a "reasonable effort" to protect the children or failed to provide necessary care.
Cruz, a 24-year-old former student, pleaded guilty and received a life sentence last year, avoiding a death sentence when his jury could not unanimously agree he deserved execution.