Feds, Albuquerque reach deal on police reform
U.S. Justice Department and New Mexico's largest city have reached an agreement to overhaul Albuquerque's police department
---
By Russell Contreras
Associated Press
ALBUQUERQUE, N.M. — The U.S. Justice Department and New Mexico's largest city have reached an agreement to overhaul Albuquerque's police department amid several accusations of excessive force, agreeing to reforms that include new training and protocols for investigating officer shootings.
The deal announced Friday also orders the force to be independently monitored and calls for the changes to be in place within four years.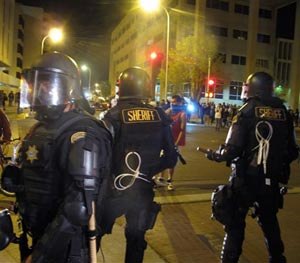 Damon Martinez, the U.S. attorney for the district of New Mexico, said at a news conference that the agreement represents a new chapter for Albuquerque and will "ensure effective policing and build community trust for our police officers."
City and federal officials have spent hundreds of hours discussing overhaul plans in the months after a Department of Justice report found in April that officers showed a pattern of using excessive force.
The police department serving a city of about 560,000 people has faced scrutiny for 41 police shootings — 27 of them fatal — since 2010. The fatal shooting of a homeless man in March sparked protests around the city after video footage appeared to show the man surrendering during a standoff.
Attorney General Eric Holder said the agreement will transform the culture and practices of the Albuquerque Police Department.
"And I am confident that, with the cooperation of city leaders and brave law enforcement officials, we will take significant steps to restore trust with local citizens and build for Albuquerque's residents the stronger, safer, and more secure communities that all Americans deserve," Holder said.
Albuquerque Mayor Richard Berry said the agreement sets a new national standard for police reform. The deal "will lead to better community outcomes through training, accountability and citizen input," he said.
An independent monitoring team will oversee how the changes are adopted, provide technical assistance and publicly report on the city's compliance, according to the Justice Department.
It also will have access to all documents, personnel, facilities and information related to the settlement agreement and will engage with officers and community members on an ongoing basis, federal officials said.
In addition, the agreement calls for the Albuquerque police to disband the troubled Repeat Offender Project unit. Federal officials said the group had morphed into its own tactical unit and had little supervision. The unit drew fire in 2012 after it became public that it used a hangman's noose as its symbol.
The Albuquerque City Council is scheduled to vote on the agreement next week. Later in November, the city of Albuquerque and Justice Department officers will file the settlement agreement in federal court for approval and entry as an order.
Berry said the first year of the reforms will cost the city around $4 million to $6 million. City officials are still calculating a total costs, he said.
Steve Torres, whose son, Christopher, struggled with schizophrenia and was killed by Albuquerque police, said he's pleased that most of the reforms sought by the families of those killed in police shootings were included.
"I never thought I'd see this day," said Torres, who attended the Justice Department announcement. "Now we have to make sure they follow through."
During the last five years, the Department of Justice's Civil Rights Division has opened more 20 investigations into police departments. Officials said the department had entered into 15 agreements with law enforcement agencies, including nine consent decrees similar to the one crafted with Albuquerque police.
The department has entered into consent decrees, for example, with the New Orleans Police Department, the Puerto Rico Police Department and the Seattle Police Department.
"This agreement comes at a time when there's much national attention to the use of deadly force by police officers and whether police officers are meaningfully accountable to the communities that they serve, said Vanita Gupta, acting assistant U.S. attorney general. "Albuquerque is not alone in struggling with these very difficult issues."
Copyright 2014 The Associated Press