Crash sends Calif. police car off road, killing 2 boys
A Los Angeles County sheriff's patrol vehicle was heading to an emergency call when it crashed with another car and ran onto a sidewalk, killing two boys
---
Associated Press
LOS ANGELES — A Los Angeles County sheriff's patrol vehicle heading to an emergency call crashed with another car and then ran onto a sidewalk, killing two small boys and critically injuring their mother, authorities said Friday.
Two other people in a crosswalk were injured in the Thursday night crash as deputies responded to a report of a gunshot victim, Los Angeles police Capt. Alfonso Lopez said. Investigators were still trying to determine whether the patrol vehicle was using its emergency lights and siren at the time.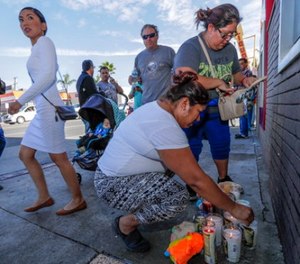 "We extend our deepest condolences to the families and all those affected by this tragic accident," a sheriff's department statement said. The agency said it is cooperating with a city police investigation.
A witness, Julie Valle, said the SUV was speeding and didn't activate its lights until it reached the intersection, just before it collided with another car, ran off the road and hit the woman and her two boys.
"They turned the lights on at that moment, a split-second, not enough time for anybody to get out of the way because they were going so fast," she said at a news conference Friday.
Valle said she rushed toward the crash and saw an injured woman.
"She was trying to get up," Valle said. "I told her, 'Don't move, you were just involved in a car accident.'"
Valle also said she saw the boys.
"All I see is little legs," she said. "Then I see a boy, and that's when I start to get the full picture."
Luis Hernandez told the Los Angeles Times that the victims were his brothers, 7-year-old Jose Luis and 9-year-old Marcos. The 7-year-old died at the scene, and the older boy died at a hospital, relatives told the paper.
"I got the call and I didn't believe it," Hernandez said tearfully Friday at a makeshift memorial of flowers, stuffed animals and candles at the intersection. "I just didn't believe it."
Their mother was taken to a hospital in critical condition.
The Times said a brief video clip from a liquor store security camera showed the patrol vehicle, its emergency lights on, driving on the sidewalk. A trash can and a person are seen bouncing off the front of the SUV.
The car that collided with the sheriff's SUV hit a third car that struck two adults in a crosswalk, according to the sheriff's statement. Those adults, another pedestrian and two deputies were treated for minor injuries, authorities said.
It was the third crash involving law enforcement vehicles in a single day.
Leticia Ramirez, 15, died at a hospital Thursday night after she was struck by a sheriff's patrol car in nearby Riverside County. The girl ran into the street in the city of Perris and was struck by the vehicle, which wasn't using its lights or siren, authorities said.
A 25-year-old man was struck by a Riverside police car as he stepped off a center divider into its path early Thursday, police said. He was hospitalized in critical but stable condition.