Denver police officer hit by fire truck, seriously injured, at end of Nuggets parade
The fire truck struck the Denver police officer near the end of the parade route as it was turning right onto a street
---
By Bruce Finley
The Denver Post
DENVER — A fire truck near the end of Denver's celebratory parade for the Nugget's NBA finals victory hit a police officer, who was transported to a hospital with serious injuries, authorities said Thursday morning.
The fire truck struck the Denver police officer near the end of the parade route as it was turning right onto Cherokee Street from West 13th Avenue, a reporter at the scene said.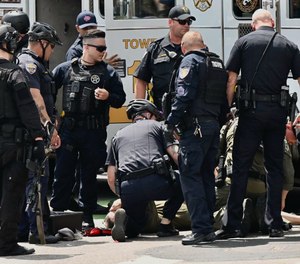 Crowds were thick in the area. A reporter at the scene saw sheriff's department SWAT officers pick up a man and shuttle him off the street in a cart. Barricades were set up in the area to keep the crowds away from the fire truck, but the officer who was hit appeared to be on the other side.
A group of Nuggets players who were riding on the truck, including Nikola Jokic, Jamal Murray, and Josh Kroenke were seen moving away in a Humvee.
The fire truck remained at the scene while officials investigate the cause of the crash.
This happened amid tens of thousands of revelers jammed into downtown Denver, a scene that observers described as a "madhouse" with people clambering over barriers.
It was the second incident this week that marred the celebration of the Denver Nuggets NBA championship, following a shooting that left at least 10 people injured early Tuesday near the intersection of Market and 20th streets. Police said that the shooting likely was related to a drug deal amid what had been a jubilant crowd of revelers.
—
©2023 MediaNews Group, Inc.
Visit at denverpost.com.
Distributed by Tribune Content Agency, LLC.
McClatchy-Tribune News Service