Report: Nearly 27% of LAPD's lowest-ranked officers are female
However, as the post-pandemic hiring surge levels out, the rate of female officers being hired has begun to fall significantly
---
By Ashley Silver
Police1
LOS ANGELES — After a surge in post-COVID hiring, more than one-quarter of LAPD's lowest-ranked police officers are women.
According to the Los Angeles Daily News, the LAPD hired a greater share of female officers over the last two years than in the entire history of the department, putting the department close to a goal it sought to complete by 2030 with the 30x30 Initiative.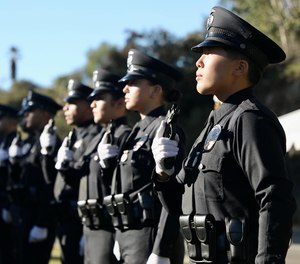 The department's sworn and civilian staffing report was recently released and shared by the Daily News. As of Nov. 20, there were 472 men and 170 women, according to the report.
However, as the post-pandemic hiring surge levels out, the rate of female officers being hired has begun to fall significantly. LAPD Chief Michel Moore said the department has gotten more recruits in the last six months of 2022, but fewer of them are women.
The LAPD was able to maintain a higher number of female officers in the 2021-2022 recruitment cohort through retainment efforts during a hiring freeze, which included following up with female recruits and inviting them to events with female mentors from the department.
"Without those activities, we would never have reached that 27%," said Assistant Chief Dominic Choi.
NEXT: Police agencies sign national pledge to recruit 30% women by 2030