Texas DPS promotes first female major in Texas Rangers' 200-year service
Wende Wakeman noted the importance of the progress made by the organization, attributing her success to the sacrifices of those who came before her
---
By Police1 Staff
AUSTIN, Texas — The Texas Department of Public Safety (DPS) has announced the promotion of Texas Ranger Captain Wende O. Wakeman to the rank of major. This marks the first time in the Texas Rangers' 200-year-old history that a woman has achieved this rank, according to a DPS statement.
"Major Wende Wakeman's years of hard work, her tremendous strength of character and her unwavering determination have all led her to this moment," said DPS Director Steven McCraw. "I cannot think of someone more deserving, nor can I think of a better role model for so many to be able to follow as she continues pave the way."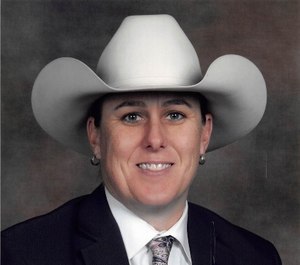 Effective from Sept. 1, 2023, Major Wakeman has assumed command of Texas Ranger Company "F" in Waco. In this role, she supervises 27 Rangers and three lieutenants, overseeing operations ranging from Dallas to south of San Antonio. 
"It is an unbelievable honor to have the opportunity to serve the citizens of this great state and to lead my fellow Texas Rangers in this capacity," said Major Wakeman. "This moment in Ranger history is only possible because of the dedication and the sacrifice of so many that have come before, along with the incredible strides made by this organization over the years. I will strive to do my very best to represent the men and women of this department every day."
Wakeman's journey with the DPS began over two decades ago in 1998. Her career has been marked by numerous milestones, including being the first woman promoted to the rank of Ranger lieutenant. She has served in various capacities, including overseeing the Sexual Assault Kit Initiative (SAKI) Program at the Texas Ranger Headquarters in Austin.
Major Wakeman holds numerous certifications and has completed several leadership programs, including the National Forensics Academy, the International Association of Chiefs of Police Women's Leadership Institute, and the DPS Command College. 
The Texas Rangers, celebrating their 200th year of service in 2023, are a specialized law enforcement unit that handles major crime incidents, public corruption, crimes against children, and border security operations. This year, they mark their bicentenary with the historic promotion of the first female Ranger Major.