Aurora theater shooting victims cite lack of guards, silent alarms in civil trial
Six jurors will have to decide whether Cinemark, the country's third-largest theater chain, should be held liable for the mass shooting
---
By Sadie Gurman
Associated Press
CENTENNIAL, Colo. — A gunman who killed 12 people in a Colorado movie theater was so determined that no security measures could have stopped him, an attorney for the cinema chain said Tuesday during the start of a civil trial over whether the company should have foreseen the 2012 attack.
In opening statements in the civil trial brought by survivors of the attack and their families, attorney Marc Bern said the suburban Denver movie theater should have been better prepared for the possibility of violence during the packed midnight premiere of a Batman film, where at least 1,000 people were expected. While other theaters across the country were bolstering security for the summer blockbuster, Century 16 in Aurora lacked armed guards, closed-circuit television cameras that could have spotted trouble and a silent alarm that would have sounded when James Holmes slipped through an emergency exit door and opened fire, Bern told jurors.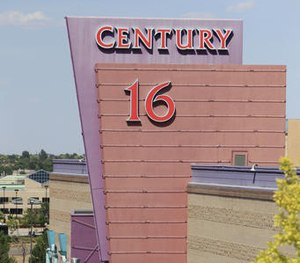 "Cinemark failed to be prepared in a post-9/11 world," said Bern, who is representing 27 victims. A 28th survivor who is representing herself argued the shooting left her emotionally damaged, even though she was not in the auditorium where it took place but in a theater down the hall.
The six jurors will have to decide whether Cinemark, the country's third-largest theater chain, should be held liable for what Taylor described as the first mass shooting at a theater in "the history of American cinema."
Mass shootings are still so rare that theater management could not have anticipated one at a movie theater with no history of serious violence, Cinemark attorney Kevin Taylor said.
Taylor acknowledged there were no armed guards on hand for the July 20, 2012, premiere of "The Dark Knight Rises" but argued that management had deemed them unnecessary in Aurora, which was then considered among Forbes' safest cities in the country. Guards were stationed at other Cinemark theaters. The company's procedures were "in line with industry standard and custom," he said.
The door Holmes' propped open and entered through was not alarmed because it was not an emergency exit but rather a door designed to allow people to come and go, Taylor said.
Holmes was sentenced to life in prison last year after jurors failed to unanimously agree he deserved the death penalty.
Both sides in the civil trial pointed to Holmes' months of planning to support their case. Bern said if the theater had closed-circuit television cameras or roving patrols outside, employees might have known that Holmes scoped out the theater four times before the attack, snapping pictures. Holmes' notebook with detailed diagrams of auditoriums showed he picked the theater for its lax security, Bern said.
Taylor showed photos of Holmes' weaponry, high-grade body armor and ammunition as proof that he was a "mad genius" who would not be deterred.
Holmes stood before the crowd of more than 400, threw gas canisters and opened fire with a shotgun, assault rifle and semi-automatic pistol.
"He was hell-bent on committing as much murder as he could," Taylor said. "This was a completely unpredictable and unstoppable event."
Copyright 2016 The Associated Press