SRO praised for response after shooting at Md. high school
Gov. Larry Hogan said Deputy First Class Blaine Gaskill "may have saved other people's lives"
---
By Jessica Anderson and Pamela Wood
The Baltimore Sun
GREAT MILLS, Md. — As school systems across the country debate arming staff, state and local officials praised the actions of the school resource officer who fired at a gunman at Great Mills High School.
"He responded exactly as we train our personnel to respond," said St. Mary's County Sheriff Tim Cameron of school resource officer Deputy First Class Blaine Gaskill. Police said Austin Rollins, 17, shot at two other students who were injured. Gaskill fired at Rollins, who almost simultaneously fired back with a handgun, Cameron said. Gaskill was not injured during the incident, which unfolded in less than a minute.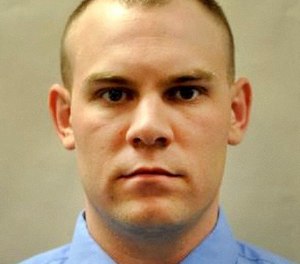 "While it's still tragic, he may have saved other people's lives," Gov. Larry Hogan said of Gaskill.
Police said a 16-year-old girl — later identified as Jaelynn Willey — is in critical condition and a 14-year-old boy is in good condition at local hospitals.
"It looks like the SRO did exactly what the SRO was trained to do," St. Mary's Schools Superintendent James Scott Smith said at a news conference Tuesday.
The officer's actions contrast with those of Broward County Sheriff's Deputy Scot Peterson, assigned to Marjory Stoneman Douglas High School in Parkland, Fla., where 17 people were shot and killed last month.
The Florida sheriff's office said the officer was armed but stayed outside the building, even though the policy requires deputies to attempt to stop shootings and help victims. Peterson later resigned but has denied any wrongdoing. His attorney, Joseph DiRuzzo, previously said in a statementthat Peterson had taken up a "tactical position" against the wall of building seven, believing shots might have been fired outside.
The Florida shooting has also sparked a national conversation about gun violence in schools, with President Donald Trump calling for more armed adults in schools. Some school systems have pressed for other measures, such as increasing security at school facilities. Maryland State Superintendent Karen Salmon has said more should be done to support and counsel troubled students.
At the Great Mills news conference Tuesday, Hogan cited his school safety plan to spend money on school security upgrades; the ban on bump stocks, which make semi-automatic weapons behave like automatic weapons; and the so-called red flag rule for seizing weapons from people whom judges deem dangerous.
"We need more than prayers," Hogan said.
After Tuesday's shooting in Southern Maryland, Carroll County officials announced that armed officers will now be stationed at some schools, leaving only Baltimore City without armed officers in public schools locally. Superintendent Stephen Guthrie previously expressed concerns about funding, but the Carroll County Commissioners will pay to place deputies at various schools throughout the county for the rest of the year until a long-term funding plan is established.
Don Bridges, the president of the National Association of School Resource Officers, said school systems should embrace armed officers to increase safety.
"That SRO at St. Mary's County today is a hero. He did what was consistent with his training. He did what thousands would do," said Bridges, a Baltimore County police officer assigned to Franklin High School.
Bridges helped start the school resource officer program in Baltimore County more than 20 years ago. He said more school systems are recognizing the importance of an officer's role, which is not only to investigate threats but to serve as a mentor and educator.
"It is the most challenging job within law enforcement," he said, and officers should be specially trained to deal with adolescents who are still developing.
Schools are "no longer where we can hide a subpar officer," Bridges said.
Gaskill has been assigned to Great Mills since the start of the school year, and has been with the sheriff's office for almost six years. He's completed SWAT training and previously worked as a correctional officer, Cameron said. Gaskill finished his police training in April 2013, and received an award for "emergency vehicle operations."
He won praise in 2016 for persuading an armed man who confronted him to surrender, an event caught on a police body camera, Cameron said.
Gaskill was responding to a home in Great Hills after neighbors reported fighting. When Gaskill arrived, he was met by a man standing on the front porch pointing a handgun at him, the sheriff's office said. Gaskill yelled at the man multiple times to put down the gun, but he refused. The man eventually complied and was placed under arrest, the office said.
St. Mary's began assigning deputies to county high schools in the 1998-1999 school year, the same year two seniors shot and killed 12 students and a teacher at Columbine High School.
In recent years, the sheriff's office has redefined its response to active-shooter situations. Instead of relying on multiple officers to confront a shooter, they are now trained in how to respond as a single officer, Cameron said. All the officers in the department went through a full day of training at an elementary school on the new response tactics, Cameron said. Officers also are outfitted with first-aid kits and have training in combat medicine. In the Great Mills case, the deputy, school nurse and others provided first aid to the teens who were shot, including applying a tourniquet, Cameron said.
 Baltimore Sun Media Group reporter Emily Chappell and South Florida Sun Sentinel reporters David Fleshler and Stephen Hobbs contributed to this article.
©2018 The Baltimore Sun
McClatchy-Tribune News Service