Lenco 'BombCats' operating in two major Calif. counties
The BearCat EOD, a.k.a the BombCat, is a highly customizable bomb disposal vehicle
---
By Police1 Staff 
PITTSFIELD, Mass. — Two police agencies in California have each recently purchased a Lenco bomb disposal truck, known as the BearCat EOD or "BombCat," the vehicle manufacturer announced on Wednesday. 
According to the release, the Riverside County and San Diego County sheriff's offices have added a BombCat to their fleets.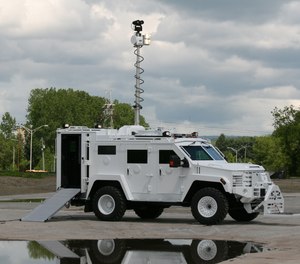 "We're excited to grow our relationship with these departments," said Lenny Light, Lenco vice president, in a statement. "We developed the bomb response platform for the BearCat years ago with input from agencies around the country. Since then, the BombCat has continued to evolve to meet the needs of urban and rural EOD teams with each unit we build." 
The BearCat EOD is built with an all-steel armor construction, high ballistic protection and modular design while incorporating an elevated, rear compartment to accommodate a tactical bomb disposal robot. The BombCat also has a fold-out, curbside ramp for easy robot access, as well as an interior workstation for bomb technicians to monitor equipment. 
"A standard, off-the-shelf BearCat EOD does not really exist; each one of these vehicles is manufactured to meet the unique requirements of our customers," said Light. "From robots to cameras, monitors to workstation layouts, our engineering team can create custom-designed options to match a department's existing technology." 
The BombCat also has a telescoping mast that can rise 22.5 feet from the ground when fully extended, providing a bird's-eye view with thermal camera options. Depending on the chosen configuration, the vehicle can seat five to ten people. The vehicle can be additionally customized with chemical, biological, radiological, nuclear and high yield explosives (CBRNE) equipment. 
For more information about the BearCat EOD, see here.