Man, 2 teens charged in shooting of Wash. officer
Officer Mike McClaughry remains in critical condition at a Seattle hospital
---
Associated Press
MOUNT VERNON, Wash. — A 44-year-old man suspected of shooting a police officer in the head in Washington state was charged Tuesday with attempted first-degree murder.
Ernesto Lee Rivas was charged in the shooting of Officer Mike "Mick" McClaughry, who was fired upon while canvassing a neighborhood in Mount Vernon on Thursday, about 60 miles north of Seattle.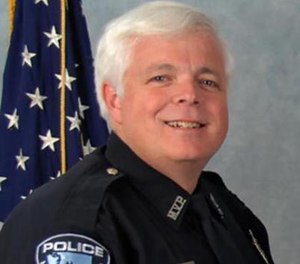 McClaughry and other officers were in the neighborhood looking for witnesses to a report of another shooting earlier that day.
McClaughry remained in critical condition at a Seattle hospital Tuesday.
The 61-year-old officer is a father of three and a grandfather who started working with the Mount Vernon Police Department in 1985.
Rivas, an alleged gang member, is being held on $1 million bail. He was taken into custody following an hourslong standoff, during which authorities say he repeatedly fired at officers.
According to court records, he has not admitted to shooting McClaughry.
Rivas has an extensive criminal record that includes eight felony convictions, according to court and patrol records. In 1998, he reached a plea deal with Yakima County prosecutors that saved him from a life sentence for a third-strike conviction for his part in the abduction and interrogation of four people he believed stole a woman's necklace, according to a Yakima Herald-Republic story.
The initial shooting Thursday that brought police to the neighborhood happened when a man linked to a gang was shot by someone in a rival gang, documents said.
Two boys, ages 15 and 16, who were in the house with Rivas during the standoff, were also charged Tuesday with attempted first-degree murder in the officer shooting. The teens additionally were charged with attempted second-degree murder in connection with the earlier shooting.
The officer shooting came less than a month after a Tacoma police officer was killed responding to a domestic violence call. Officer Reginald "Jake" Gutierrez, 45, was fatally shot Nov. 30. The suspected gunman was killed by a sheriff's marksman, ending an 11-hour standoff.