Police find 'troubling' weapons stash during child pornography search
Officials went into Randall Drake's home and found explosives, along with aerial photos of an elementary school and junior high and a troubling handwritten note
---
By Sara Nealeigh
The Bradenton Herald
DUNEDIN, Fla. — Photographs of schools, three bomb devices, guns and books on how to make explosives were found in a Dunedin man's home Wednesday, officials report.
Deputies with the Pinellas County Sheriff's Office were executing a search warrant at 1234 Royal Oak Drive North in Dunedin when they found the devices.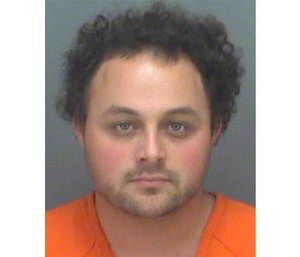 Randall Drake, 24, was a suspect in a child pornography investigation with officials suspecting that he had child porn in his home and was distributing it, according to the sheriff's office.
Wednesday, officials went into the home looking for items connected to the child pornography investigation, but instead found three explosives, the photos and books inside a locked bedroom closet, according to the sheriff's office.
Two of the homemade bombs were made of metal cylindrical cigar tubes containing gun powder and wicks for detonation and a third from a plastic tube containing gun powder, wrapped in tape with a fuse, according to the sheriff's office. The devices were safely removed from the home by the Hillsborough Bomb Squad Team.
A folder with aerial photos of Essrig Elementary School and Ben Hill Middle School in Hillsborough County, along with another of a water treatment plant were also found in the closet. Detectives also found books and handwritten notes on how to make explosives, the sheriff's office reported in a news release.
One of the handwritten notes read, "the daughters come, and I am ready. I have fed on my hatred for centuries. My fury at those who imprisoned me shall be vast and without mercy. I shall have my bloody revenge, and then the world will burn burn."
Inside the home Drake shared with his parents officials also found:
10 rifles to include an AK-47
8 handguns
2 shotguns
more than 2,300 rounds of ammunition and gun powder
a make-shift silencer
more than 15 knives
a baseball bat with nails sticking out
a crossbow
brass knuckles
Sheriff Bob Gualtieri called the discovery "troubling" and compared Drake to Stephen Paddock, the man police say shot into a crowd at a music festival in Las Vegas earlier this month.
"Randall appears to be as we would refer to as a sleeper," Gualtieri said. "We have no criminal intelligence on him."
Drake was charged with two counts of unlawfully making, possessing or attempting to make a destructive device and taken to the Pinellas County jail without incident. He refused to speak with investigators.
Officials are investigating why Drake had so many devices and what his intentions may have been. Drake has no criminal history and or history of mental health issues, according to the sheriff's office.
Drake previously worked at Florida Firearms Academy in 2015, according to Gualtieri.
"It's very concerning," Gualtieri said, adding that Drake appears to have been acting alone. "He could have caused some serious damage."
His parents told officials Drake was home-schooled from the time he was in third grade and was once a Tampa Police Explorer. He is no longer associated with the program, Gualtieri said. The parents told officials they knew their son had a few guns, but were not aware of the extent.
Nothing was found in connection with the child pornography investigation as of yet, Gualtieri said.
The investigation is ongoing.
Copyright 2017 The Bradenton Herald
McClatchy-Tribune News Service