Man arrested after charging at, assaulting Calif. officers
The suspect, Michael Gonzales, pulled a large eye bolt from his roof, jumped down and charged at officers
---
By Shawn Jansen
Merced Sun-Star
MERCED, Calif. — A 26-year old suspect was arrested on suspicion of making criminal threats and aggravated assault on officers after he reportedly charged at officers with a large bolt on Friday night in Merced, according to police.
Officers responded to a call around 8 p.m. at on the 2600 block of Midge Avenue for a report of criminal threats. The suspect, Michael Gonzales, had allegedly threatened his neighbors with brass knuckles and vandalized their fence.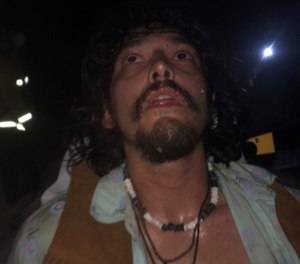 When officers tried to take Gonzales into custody, he climbed on the roof of his residence and refused to come down.
The Merced Police Department Hostage Negotiations Team was called to the scene. While they attempted to convince Gonzales to come down, he threw several items at negotiators and other officers.
Gonzales eventually pulled a large eye bolt from the roof, jumped down and charged at officers.
Officers were able to disarm Gonzales and take him into custody. Gonzales was taken to the Merced County Jail with a bail set at more than $1 million. Gonzales faces seven counts of aggravated assault on an officer, six counts of resisting arrest with violence and six counts of assault and battery, criminal threats and vandalism.
It's not the first time police officers have encountered Gonzales, they said. In the past two months, Gonzales has been arrested for negligent discharge of a firearm and threatening and trying to attack an officer while armed with a knife.
Merced police are asking anyone with any information regarding this crime to contact Officer Wilson at 209-388-7757 or by email at wilsonc@cityofmerced.org.
———
©2020 the Merced Sun-Star (Merced, Calif.)
McClatchy-Tribune News Service