Officer charged in Freddie Gray death decides against jury trial
Lt. Brian Rice's lawyers said Tuesday that he has chosen to be tried instead by a judge — the same one who acquitted two fellow officers in Freddie Gray's death
---
By Juliet Linderman
Associated Press
BALTIMORE — There will be no trial by jury for the highest-ranking police officer charged in the death of a young black man whose broken neck inside a police van caused civil unrest in Baltimore.
Lt. Brian Rice's lawyers said Tuesday that he has chosen to be tried instead by a judge — the same one who acquitted two fellow officers in Freddie Gray's death.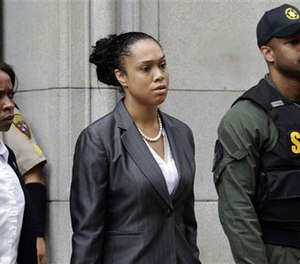 Rice, who has been suspended without pay, faces charges of manslaughter, assault, reckless endangerment and misconduct in office.
Judge Barry Williams acquitted Edward Nero and Caesar Goodson after bench trials last month. The first of the six officers to go to trial, William Porter, faced a jury and ended with a mistrial. He'll be retried in September.
Gray's neck was broken after officers left him handcuffed and shackled but unrestrained by a seat belt inside a metal transport compartment in Goodson's van. But the judge said he acquitted Nero and Goodson because the state produced no evidence supporting criminal negligence and recklessness.
Rice, a 17-year Baltimore Police veteran before Gray's death, was hospitalized over mental health concerns and twice placed on administrative suspensions.
In 2012, police confiscated Rice's official and personal firearms after fellow Baltimore police officer Karen McAleer, the mother of Rice's child, requested a welfare check. A police union attorney attributed Rice's 2013 suspension to a protective order filed by McAleer's then-boyfriend, and said such issues "had nothing to do with his ability to perform his duties as a Baltimore police officer."
Baltimore State's Attorney Marilyn Mosby vowed to use these cases to bring justice to an aggrieved citizenry when she announced the charges last year. The two acquittals so far have dealt a significant blow to her reputation.
The other two officers charged in the 25-year-old prisoner's death, Sgt. Alicia White and Officer Garrett Miller, filed motions to dismiss their cases last month.
Five of the officers, all but Goodson, have filed defamation suits against her, and a law professor at George Washington University, John Banzhaf, filed a formal complaint with Maryland's Attorney Grievance Commission alleging Mosby pursued the charges without probable cause, which would violate her professional oath.
Gray's death on April 19, 2015, a week after he was pulled unconscious and critically injured from the police van, prompted peaceful protests followed by rioting that caused millions of dollars in property damage in the some of the city's poorest neighborhoods.
Police commissioner Anthony Batts was fired and replaced with his deputy, Kevin Davis, and Mayor Stephanie Rawlings-Blake announced she wouldn't seek re-election. The U.S. Department of Justice also launched an investigation into allegations of excessive force and unlawful arrests.
Copyright 2016 The Associated Press