A man, an Obama van, a felony
Posessing things with a Presidential seal may just link you to a larceny, and bragging about it doesn't help either
---
By Larry O'Dell
Associated Press
RICHMOND, Va. — A Virginia man faces federal charges in the theft of a truck containing President Barack Obama's audio and other equipment.
Prosecutors say 48-year-old Eric Brown, of Richmond, faces up to 10 years in prison if convicted of theft of government property. A federal magistrate on Wednesday ordered Brown held without bond.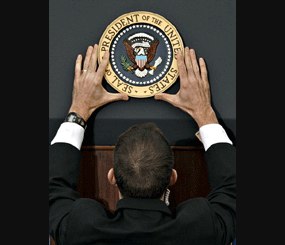 The complaint against Brown says he bragged about the theft, sold a stolen laptop and possessed equipment that contained the presidential seal.
The van with equipment used by the president during public appearances was at a hotel parking lot in a Richmond suburb on Oct. 16, 2011. The empty van was recovered on the other side of town the next day.
Brown's attorney, David Lett, declined comment.
Copyright 2012 Associated Press