Calif. cop delivers pizza after busting delivery driver
A police officer stepped up to finish the job after the delivery driver was arrested on an outstanding warrant
---
By Suzie Ziegler 
MURRIETA, Calif. — A police officer in California decided a hungry citizen shouldn't have to suffer for the crimes of their pizza delivery driver. According to the Murrieta Police Department, one of its officers completed a pizza delivery himself last week after the delivery driver was arrested. 
Officer Datil was doing traffic enforcement when he pulled over a driver for a violation, the agency wrote in a Facebook post. Datil learned that the driver – who was in the middle of delivering a pizza – had an outstanding warrant for his arrest. The driver had to be arrested, leaving the pizza delivery in limbo.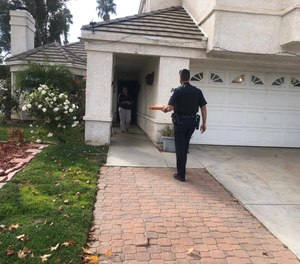 "Fear not," the agency wrote. "Officer McCarthy stepped in to fill the delivery driver's shoes and got the pizza to the hungry citizen." 
The smile on the recipient's face was all the "tip" the officer needed, the agency said.